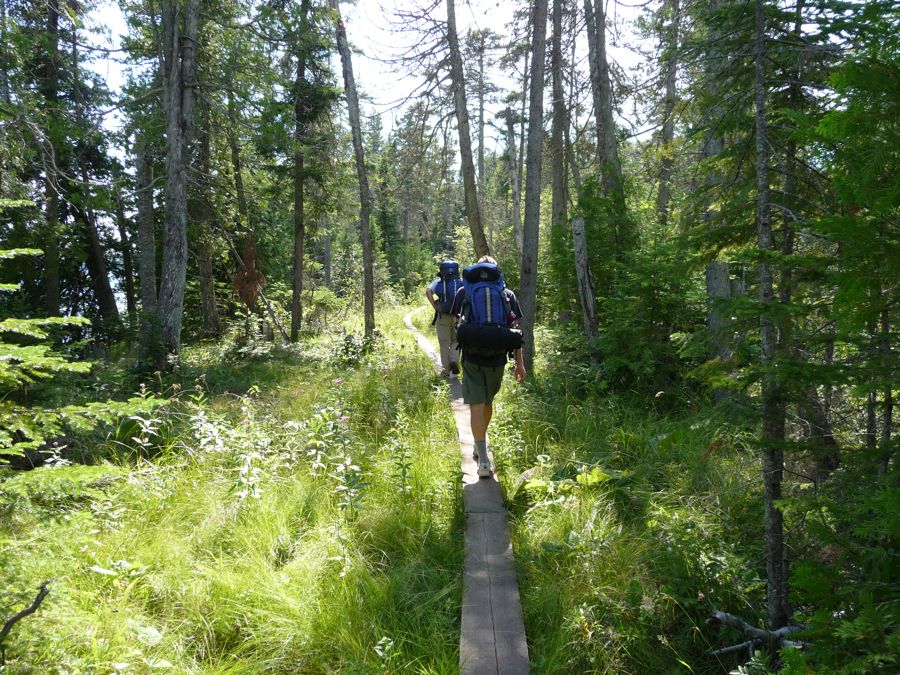 ---
TRIP DETAILS
---
Duration: 3 Days
Min El. : 600 ft
Max El. : 1,100 ft
El. Gain: 850 ft
El. Loss: 850 ft
Distance: 22 Miles
Difficulty: Easy
Off Trail %: 0
---
TRAIL MAP
---
---
Days Day 1: 7 miles Day 2: 7.5 miles Day 3: 7 miles
Nights Night 1: Daisy Farm Campground Night 2: Lane Cove Campground
Trip Members
Gary "Mountain Man" Simms
Eric "E-Rock Hopper" Simms
Lance "Switchback" Simms
---
OVERVIEW
---
Isle Royale is one of the treasures of the mighty Lake Superior and the whole Midwestern region of the United States in general. For anyone living in Chicago or the surrounding, corn-filled plains, it is one of the few locations within a ten hour driving radius worthy of a backpacking trip. There are many good resources available on getting to and enjoying Isle Royale, so I won't attempt to rewrite the book on this wonderful place. I will just tell you about the trip we made and some of the things I wish we had done in the hopes that it will make your journey just as good.
Being an island, you're going to have travel by boat or plane to get to Isle Royale. The NPS directions site lists the four primary options. Since we were coming from the south, it made the most sense to take the Isle Royale Queen IV out of Copper Harbor. It's a bit pricey, as you can see here, but the fact that we'd be sleeping outside for the next several days kind of evened things out.
With all departures leaving from Copper Harbor at 8 am, we either had to start driving from Chicago at 11 pm the night before or stay at a hotel. We rented a cabin at the Keweenaw Mountain Lodge in Copper Harbor, which turned out to be an excellent choice. We liked it so much that we ended up staying there on the night we returned from the Island.
As with most national parks, backcountry permits are in order. The permit is free (not counting a $4 per user per day fee) and can be picked up at the Rock Harbor or Windigo visitor center. When we did the trip I don't think there were any campsite quotas in place, but for the latest information you should look here.
---
Elevation Profile
---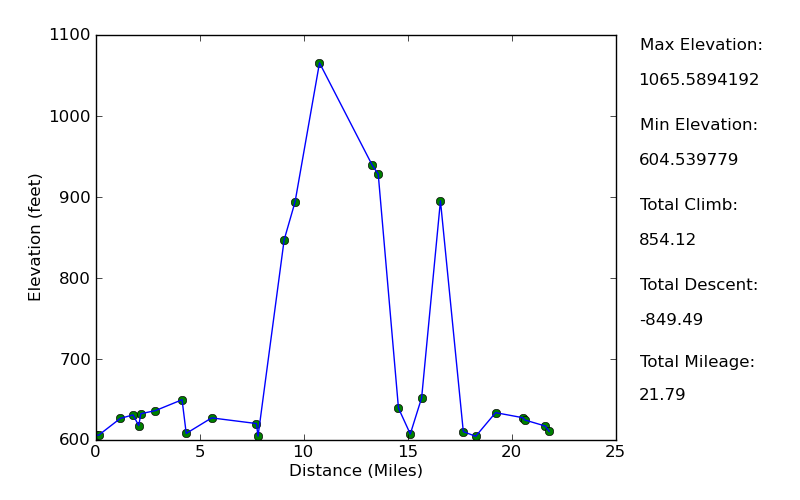 ---
TRIP LOG
---
Day 1 : Rock Harbor
Night 1 : Daisy Farm Campground
Min El. : 600 ft
Max El. : 650 ft
El. Gain : 100 ft
El. Loss : 50 ft
Miles : 7
---
We awoke bright and early at the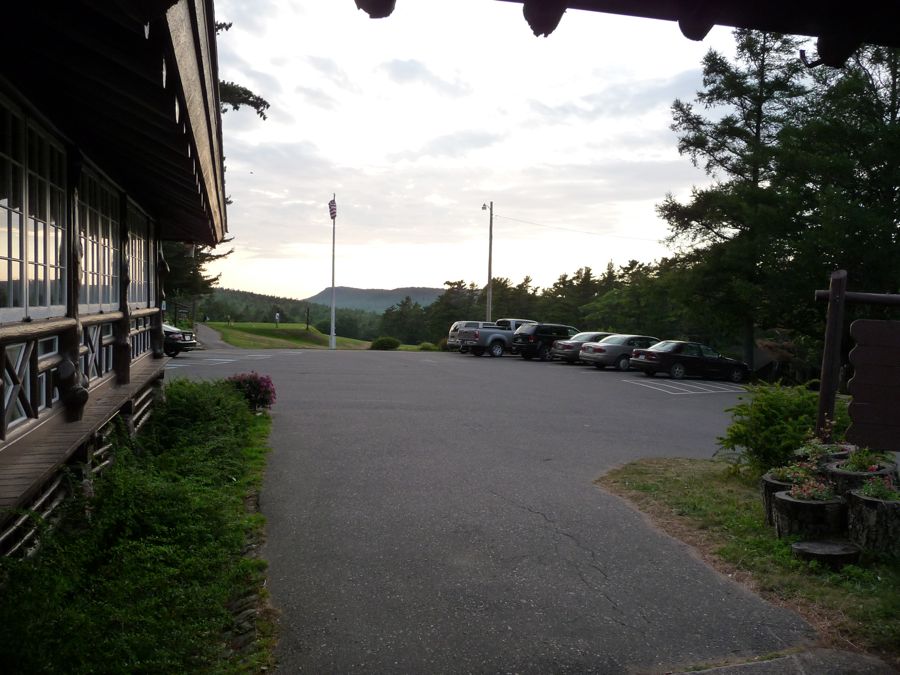 Keweenaw Mountain Lodge to a beautiful UP morning. The drive up from Chicago the day before had been as pleasant as any of the dozen or so that my brother, Dad, and I had made before, so we were in pretty good spirits. Within fifteen minutes of getting the car packed up and starting the engine, we were at the waterfront of Copper Harbor. We parked our car in one of the lots owned by the Isle Royale Queen IV, picked up our tickets in the main office, handed our gear to the attendants, and got on board the ferry.
Leaving the small harbor, the water was as calm as could be. It was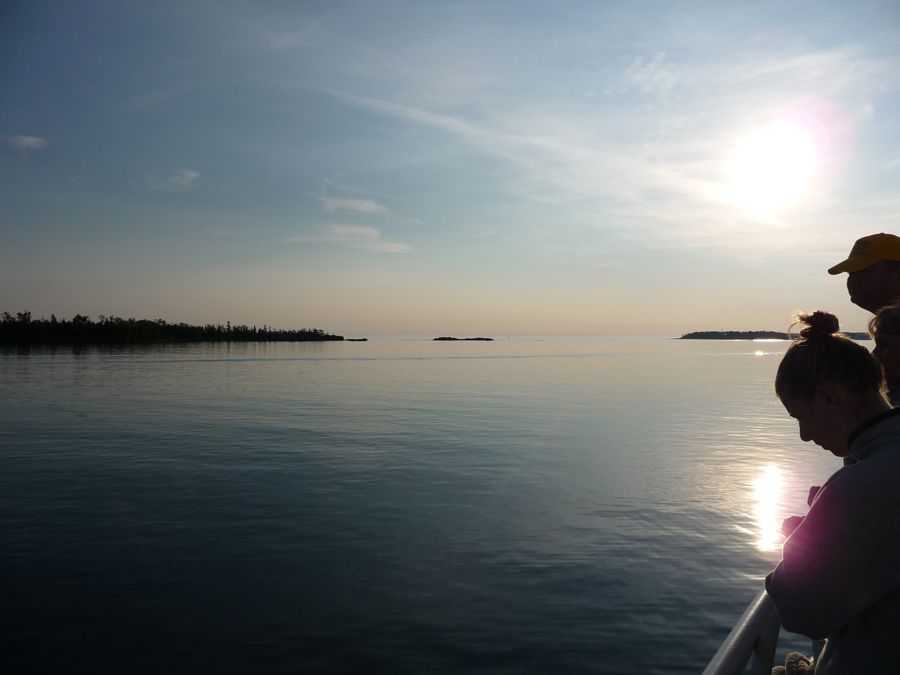 like glass, as one of my good friend's dad would say.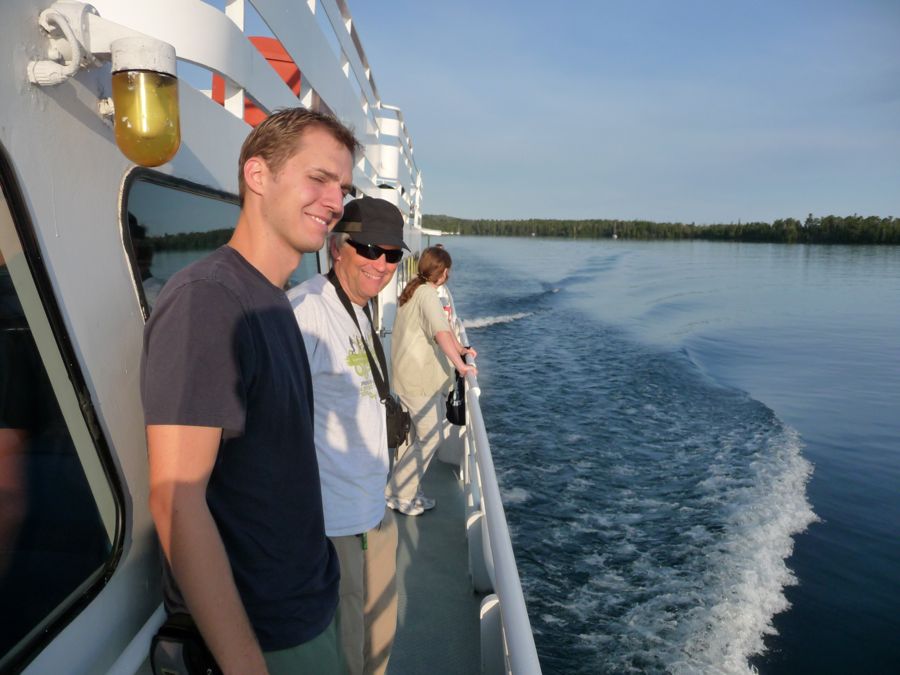 Eric and Gary were just as pumped as I was to finally be on our way. The three hour ride was smooth and enjoyable. We hit a few patches of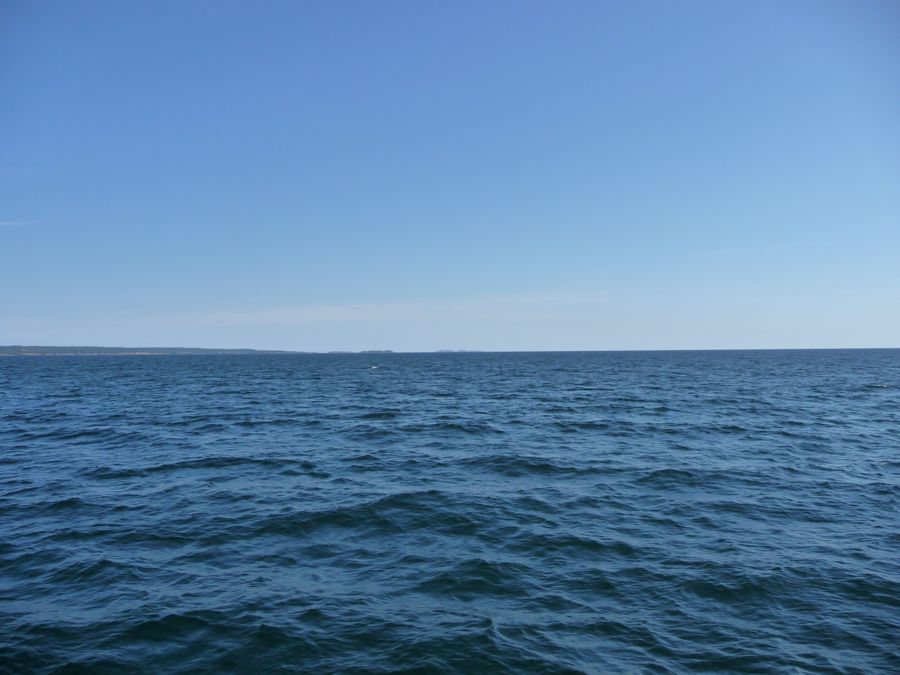 semi-choppy waters, but nothing strong enough to spill my coffee. Over the three hours I struck a nice balance of napping on the deck, staring off into the distance, and striking up conversation with some like minded folk from Wisconsin with my brother.
I have to say, when we arrived at shore, I was a little disappointed with how things were handled. The boat crew let us off and gave us our things right away, but then they spent a good twenty minutes going over backpacking safety and the regulations of the park. I mean, we had three damned hours on the boat where they could been telling us this stuff, but they chose to wait until now. There were about thirty or forty people gathered around listening to the captain on the dock, and I realized that after he released us we'd still have to wait in line for a permit. So I acted like I was going to the bathroom and made my way off to the visitor center, and when the captain's diatribe was over I was the first in line to get the permit.
Finally ready to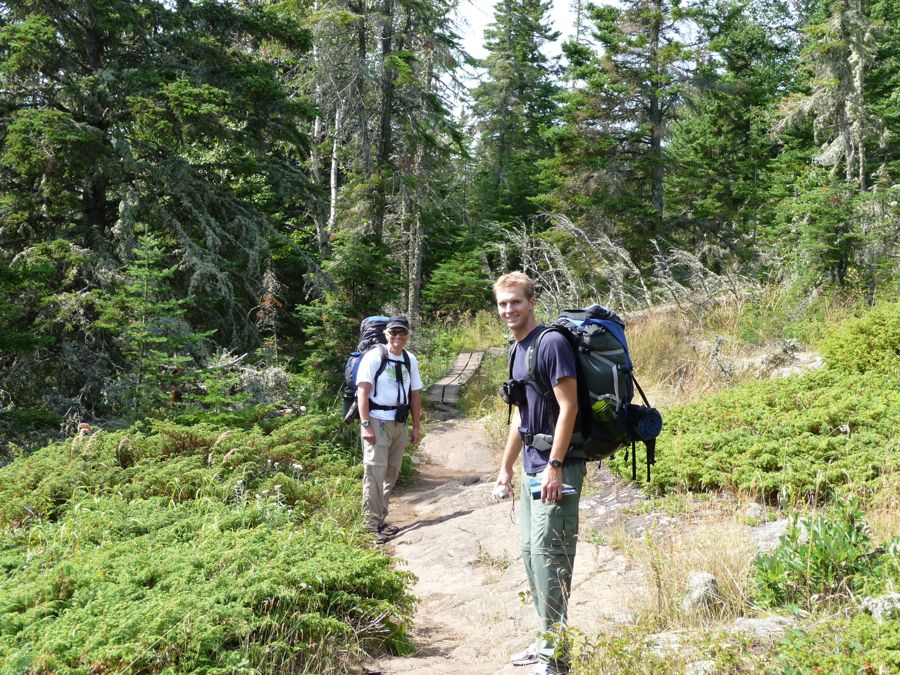 start walking, we set off on the trail to Daisy Farm. It was easy to find, and right away it took us away from the Rock Harbor establishments as it crossed over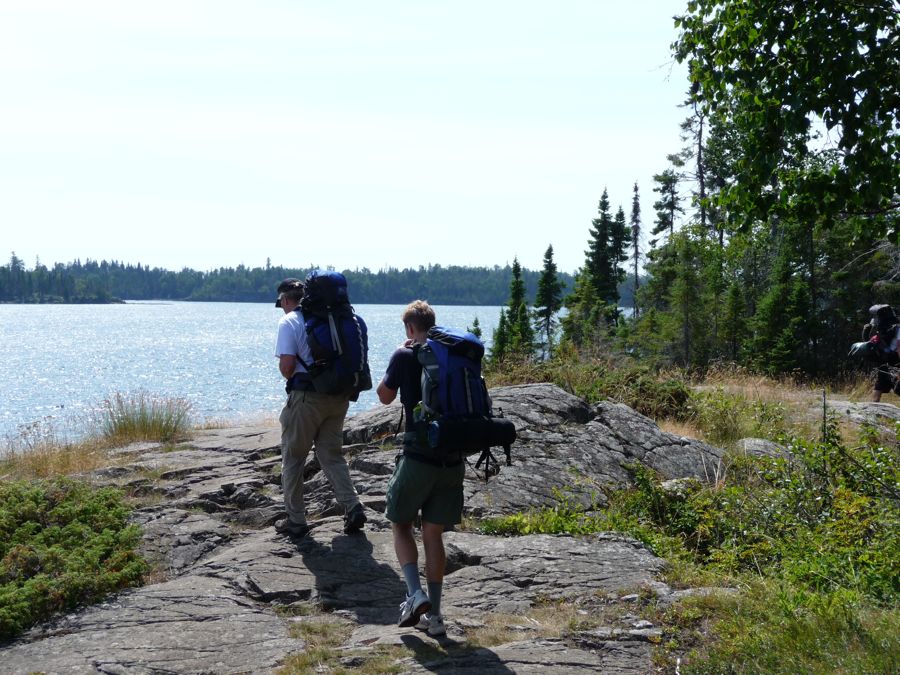 large patches of granite that hug the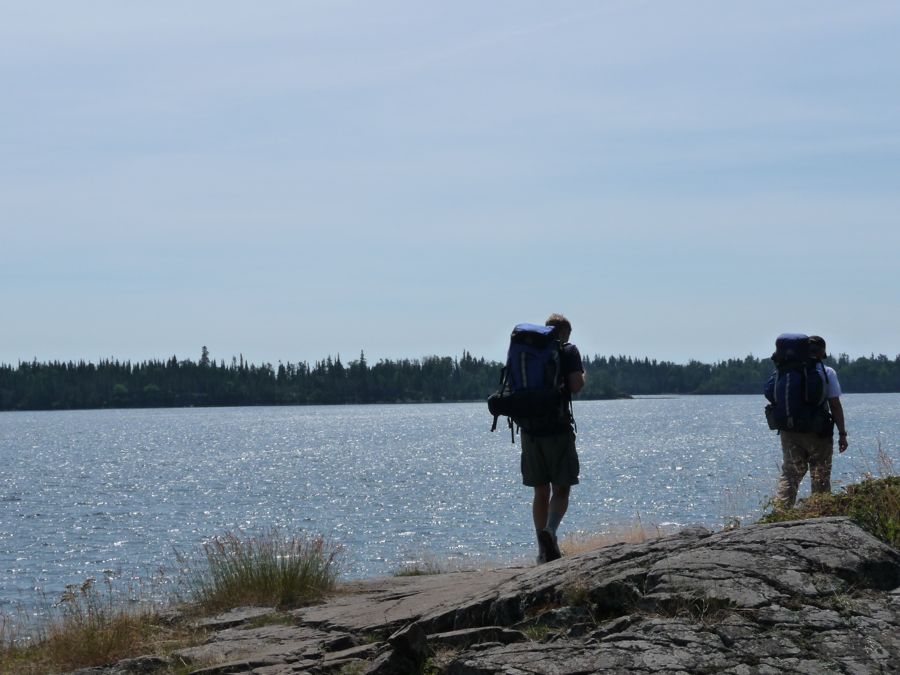 shore. Occasionally it ducks into the woods, where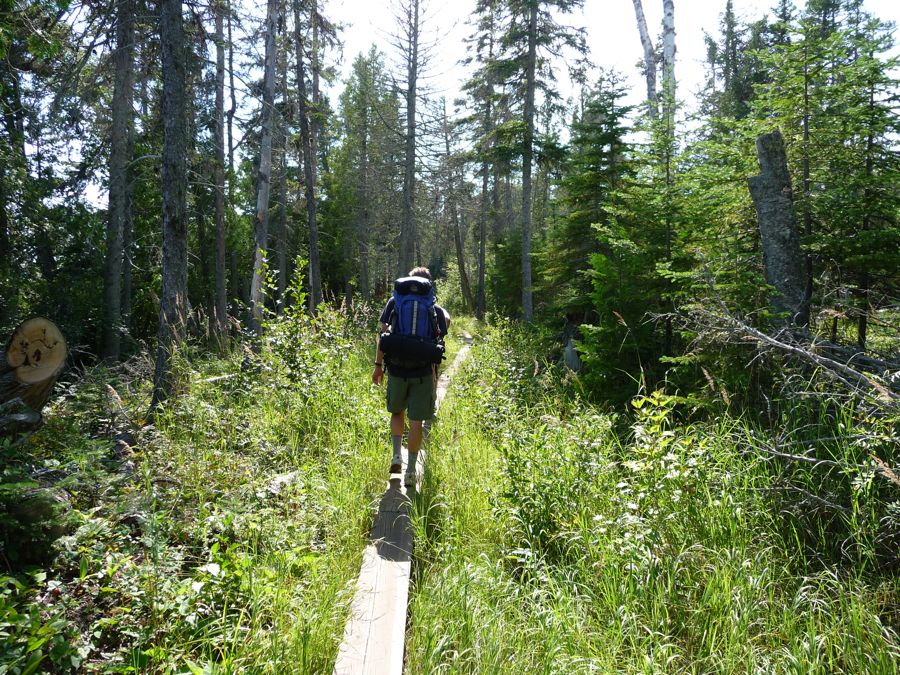 elevated planks carry you over soppy ground. If there's one thing that pops to mind when I think about hiking on Isle Royale, it's these boards of wood. They're pretty much everywhere.
After maybe an hour and a half of walking, we stopped for lunch at a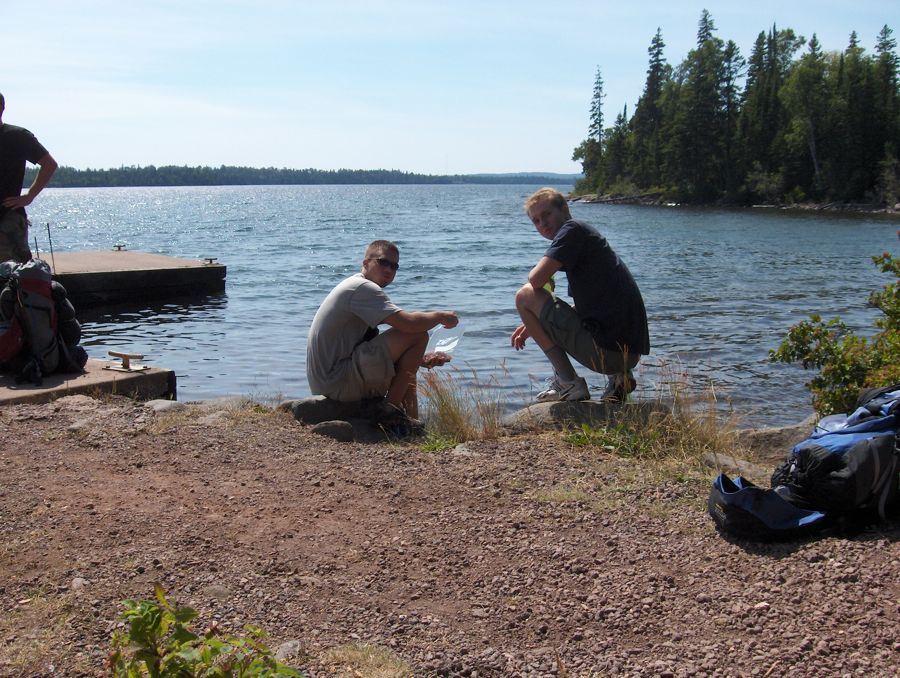 little pier along the trail. We took our sweet time eating trail mix and looking for fish off the pier, and then got back to walking, once again delving off into the forest. I was delighted to see a ton of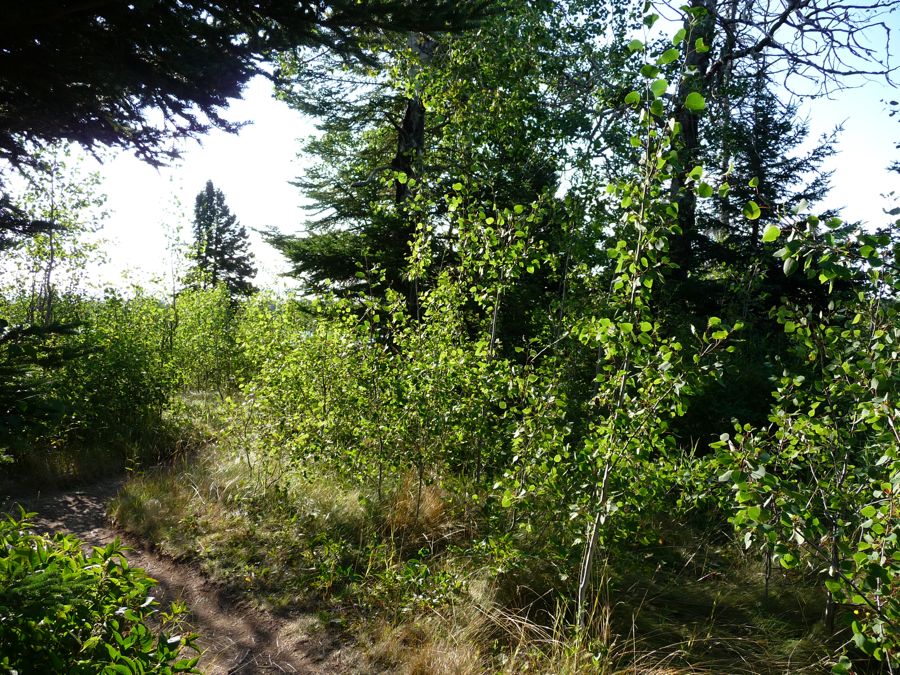 birch trees lining the way. The rest of the walk was more or less uneventful, although we did see a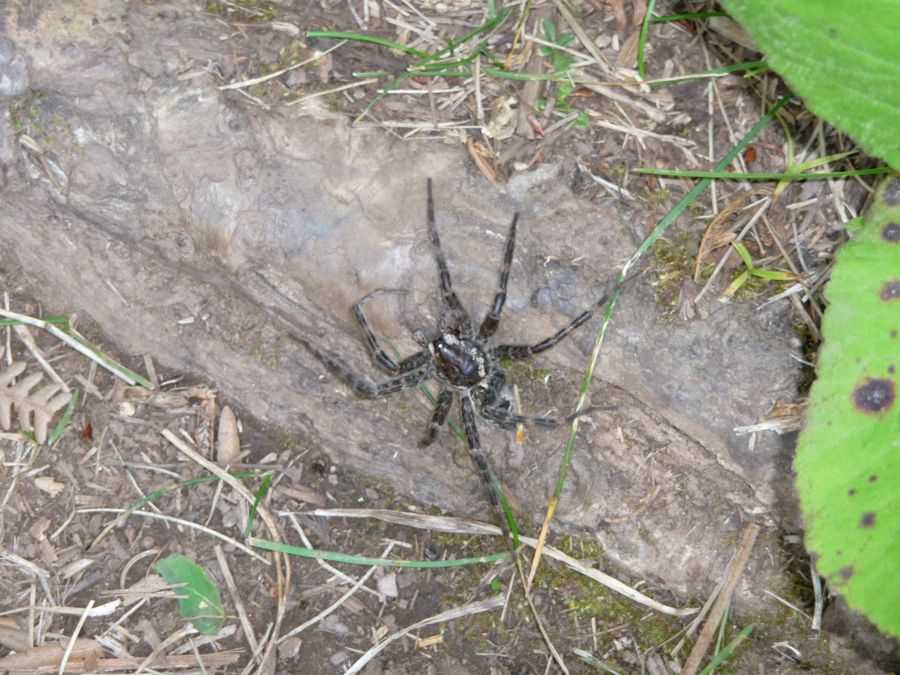 huge mother of a spider.
Well before dusk, we arrived at Daisy Farm. I was eager to see what these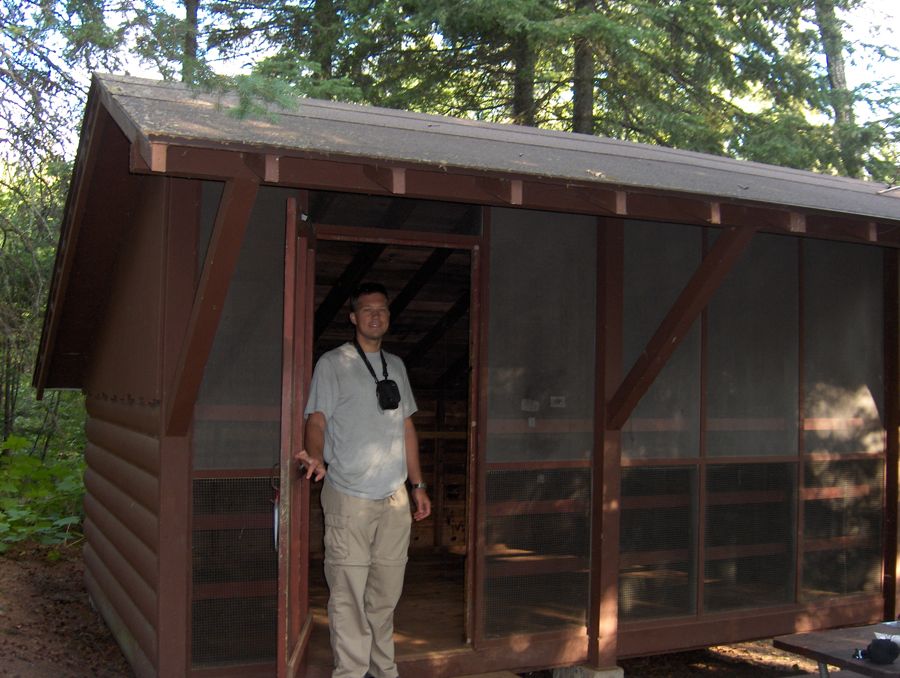 shelters I had been reading about looked like, and I was surprised to see that they where in damned good condition. We searched around for a few minutes, taking note of where the empty ones were. Eventually we settled on one that was pretty deep into the woods, situated a few hundred feet from the outhouse, which is always nice.
With plenty of daylight left and temperatures in the high seventies, we decided to go for a swim. Boy, oh boy, was Lake Superior cold. It was nice to rinse off, but for the most part my enjoyment came from drying off in the sun. We went back to camp, had dinner, and then came back out to the pier to watch the nigh evolve. There were a helluva lot of mosquitos and horseflies, but with enough bug spray we could all relax and stare off into the vastness of Lake Superior. My dad and I turned in a bit earlier than Eric. And I regret not staying up with him because he saw a little fox when he was headed back to camp that night.
---
Day 2 : Across the Island
Night 2 : Lane Cove Camground
Min El. : 600 ft
Max El. : 1050 ft
El. Gain : 600 ft
El. Loss : 600 ft
Miles : 7.5
---
It was a glorious morning in the UP on our second day at Isle Royale. For breakfast we were having oatmeal, and my brother and I couldn't stop laughing when we saw the size of the mug my dad had brought with him. It was like a double big gulp from 7-Eleven. To start the day, we had to go through some thick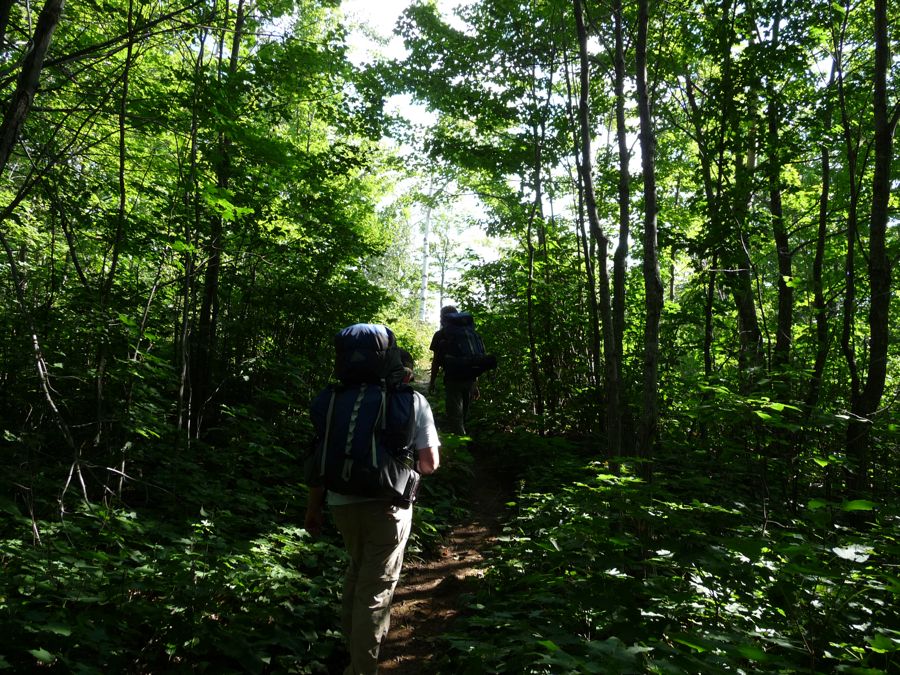 shade and cross Benson Creek under some cool air conditions. We spotted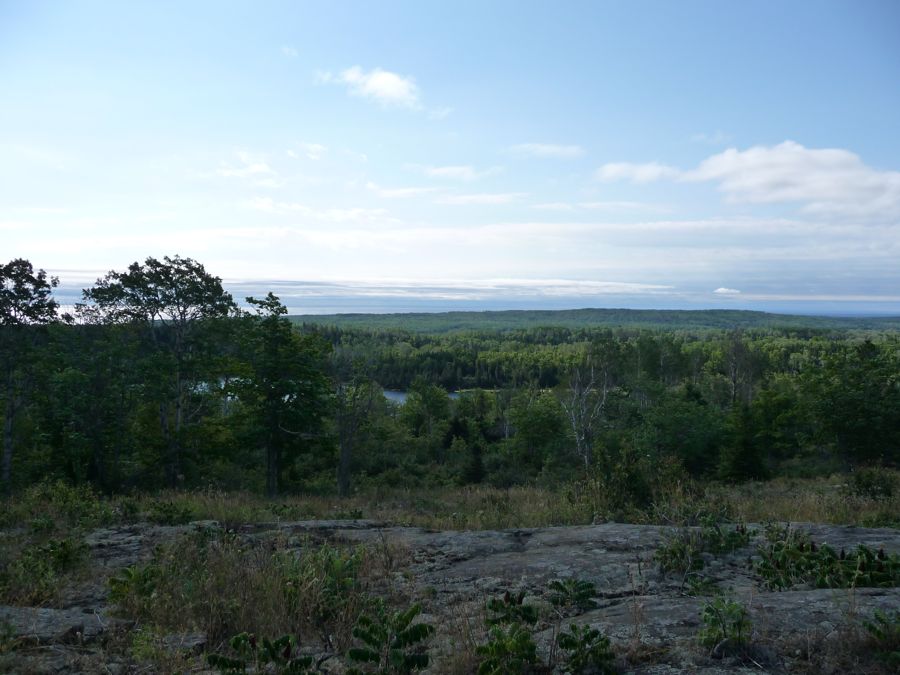 Lake Ojibway as we started our climb up to the ridge at the center of the island.
While the ridge is only 1000 feet above sea level, it still provides an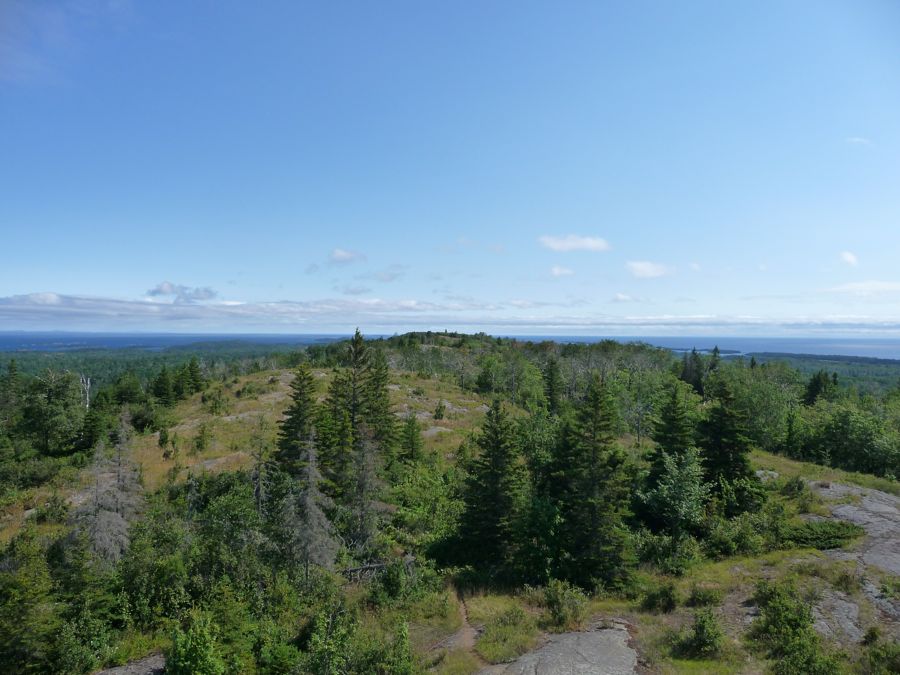 expansive view of the land below, and you can even make out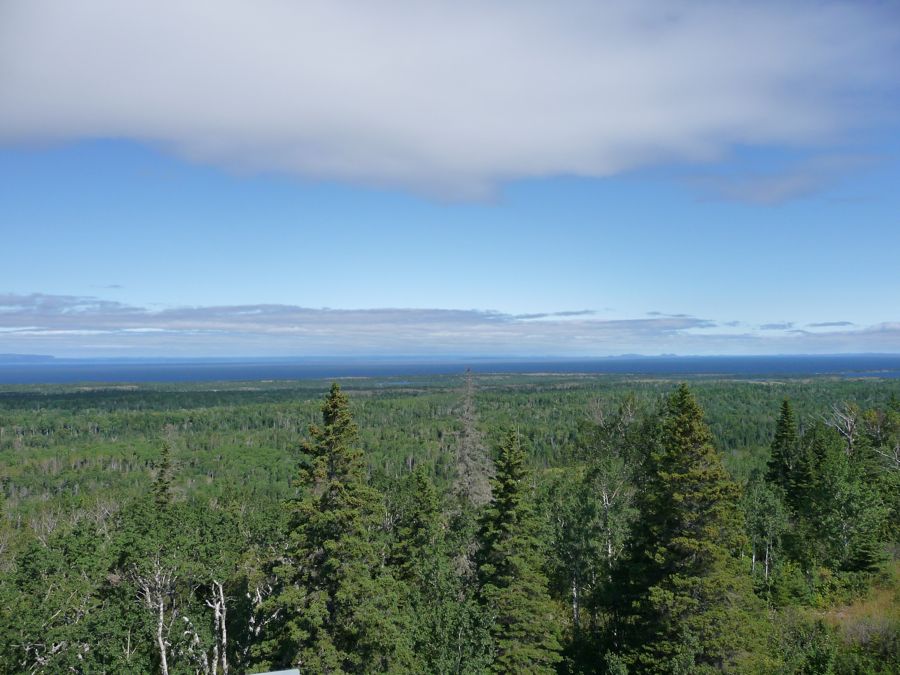 Canada to the north across the lake. Things get even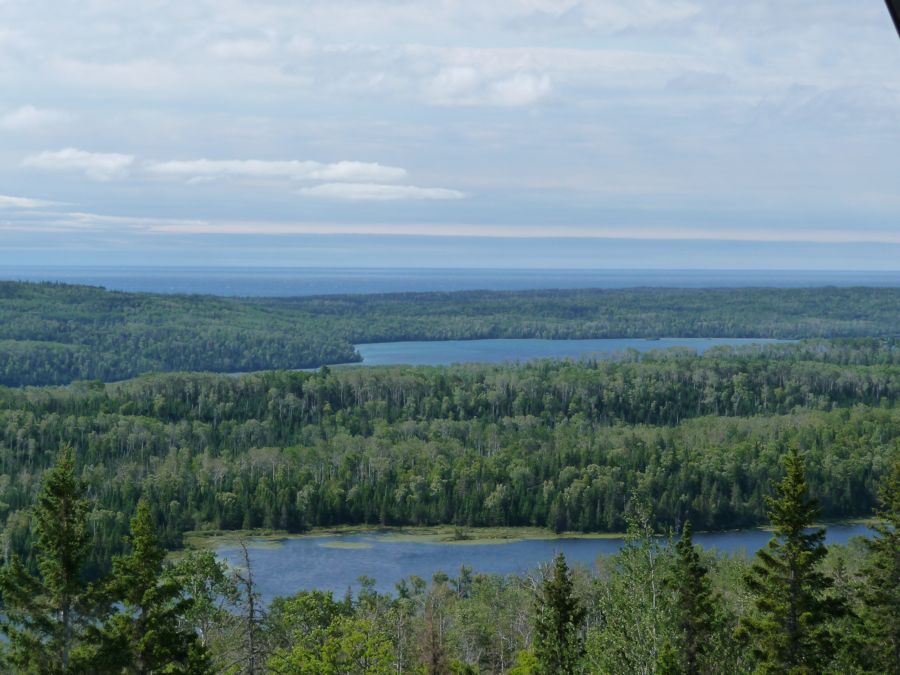 better when you climb atop the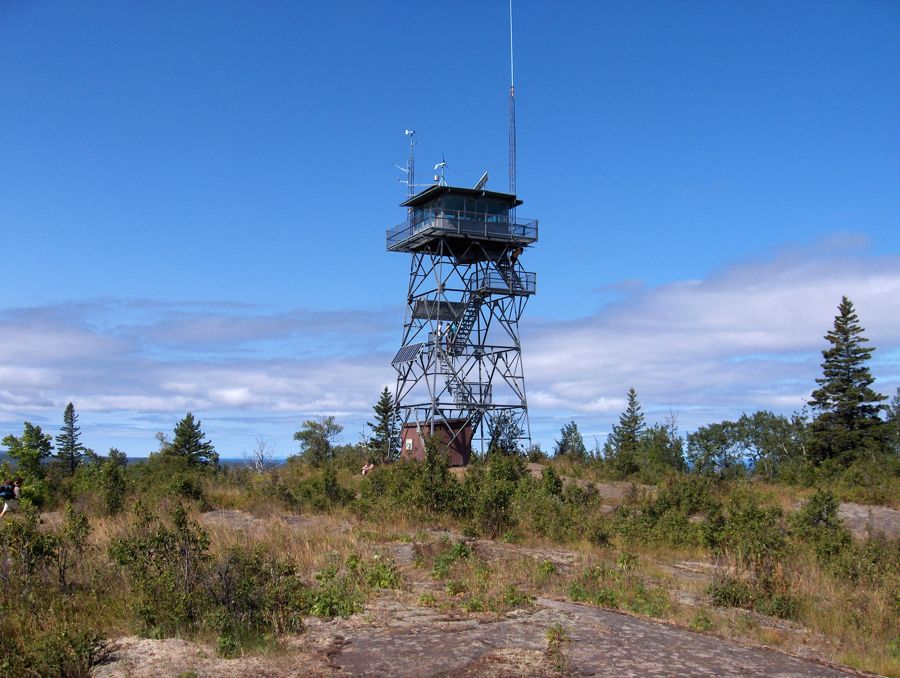 weather station at the top of Mount Ojibway. It never ceases to amaze me that the great lakes are so large that you can't see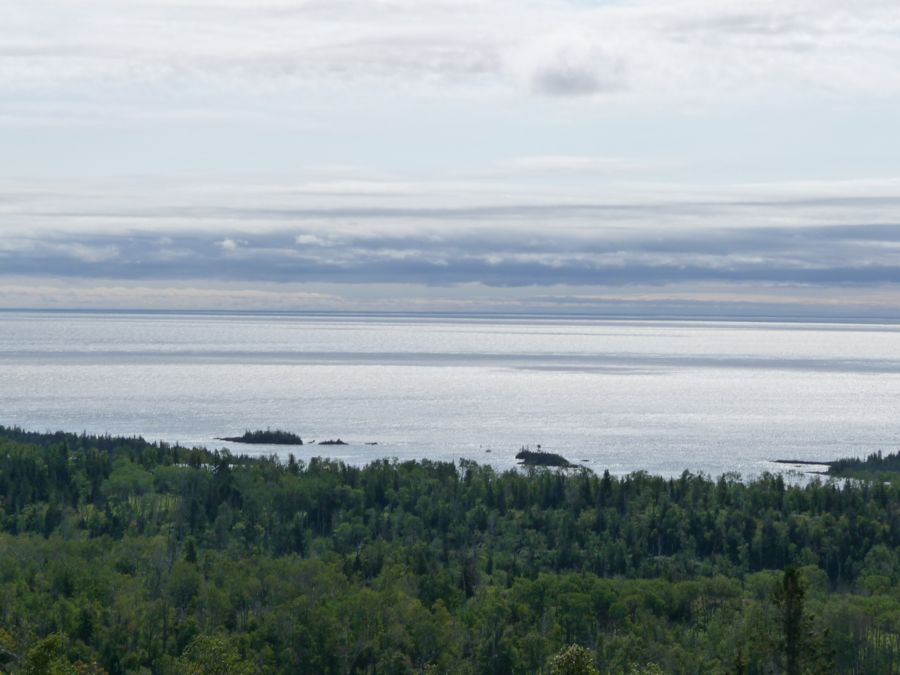 across to the other side.
I was a little ambivalent about the lookout tower and all of the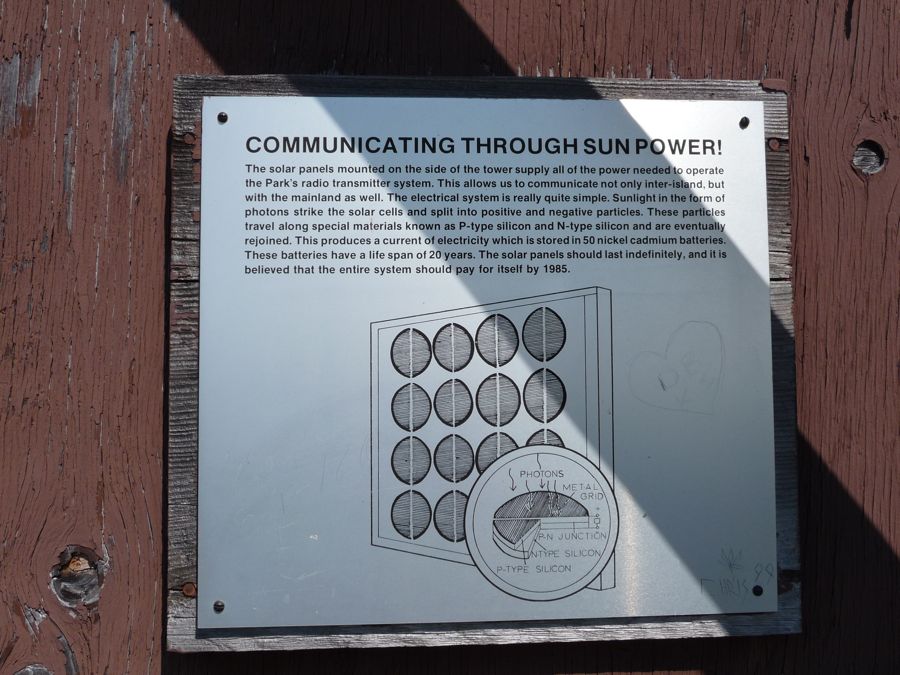 weather technology on it. It was nice to get that extra fifty feet of elevation, but it kind of made things feel like we weren't in the backcountry. Luckily, the trail ahead would make up for it. After having a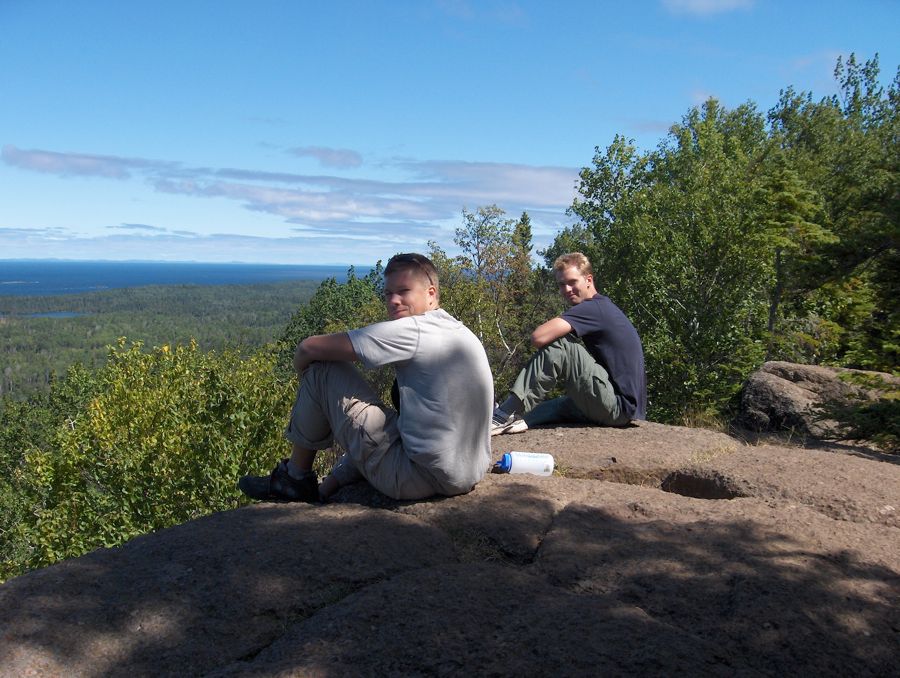 quick bite on a granite deck overlooking the land to the north, we descended down the Lane Cove trail. This was my favorite part of the trip. The forest becomes very dense with large groves of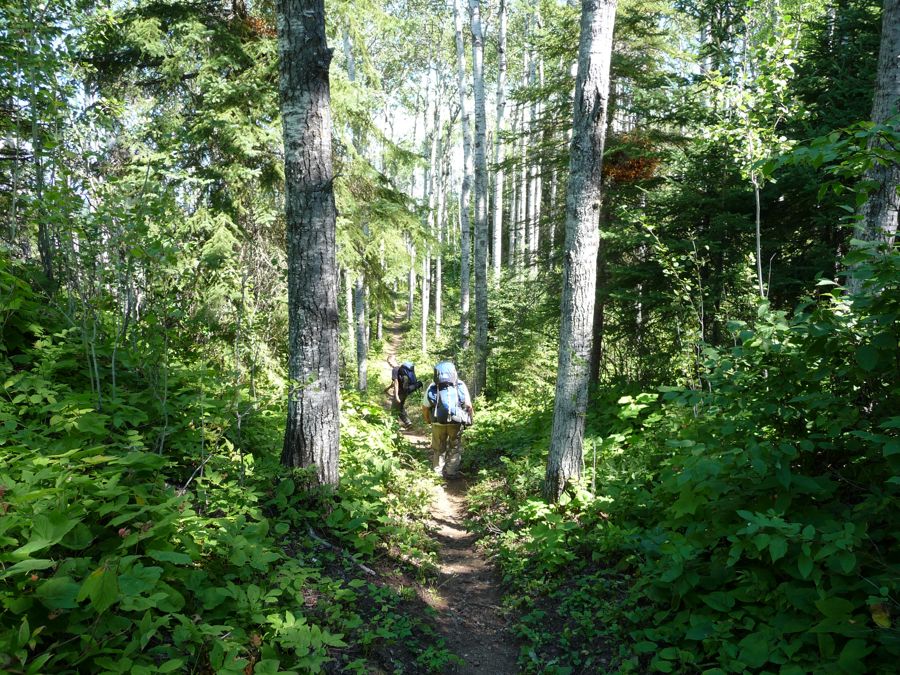 birch trees and thick ferns. The trail dips up and down and I noticed the temperature oscillating with it.
We arrived at Lane Cove Campground somewhere around 3 o'clock. There were no shelters this time, but there was an outhouse, which is always a plus in my book. We decided we'd go fishing, so Eric and I put on our sandals and took the one rod we had with us into the shallows of Lane Cove. An hour later, no catches and a ton of rock snags later, we got fed up with the cove and decided to try out the waters of Lake Patterson to the southeast. It was a pretty fun bushwhacking experience getting there, but after another hour of trying we were still skunked. So we headed back to the campsite empty handed and cooked up our packaged goods for dinner instead of the fresh fish we had been hoping for. It was still a dynamite meal.
That night will go down as one of my favorite of all times. The coolness of the air seemed to discourage the swarms of bugs that had been following us, as the water and sounds in the cove became extremely still. I remember staring at the orange hues bouncing off the water and the silhoutte of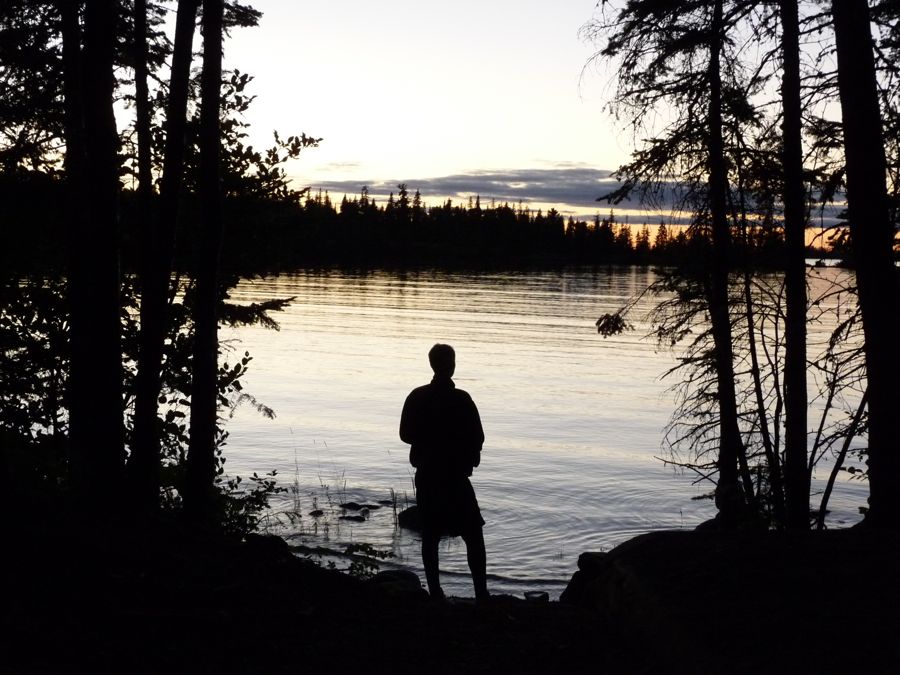 my brother for a good ten minutes and thinking that there was nowhere I'd rather be at that moment. Eventually, my dad joined him and things became quite comical to me. I couldn't get over the fact that he looked like a complete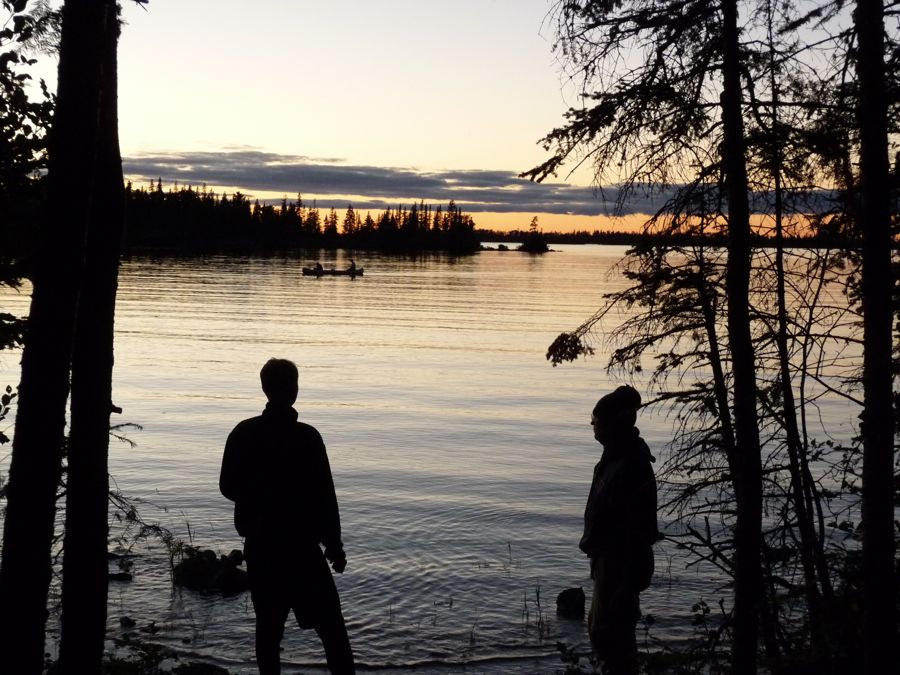 hobo in his ski cap and sweatshirt; a hobo enjoying the intricacies of nature. As he once put it, I guess that's what a mountain man really is.
---
Day 3 : Back to Rock Harbor
Min El. : 600 ft
Max El. : 900 ft
El. Gain : 350 ft
El. Loss : 350 ft
Miles : 7
---
Two days on Isle Royale and still no moose sightings. I mentioned in the overview that there were some things I wish we had done differently, and one of them involves seeing a moose. We've been to the UP countless times and never seen one of these creatures. I thought we'd for sure see one on Isle Royale. I think if we had traversed the entire Isle our chances would have gone up significantly. It's only 45 miles long by about 9 miles wide, so a round trip would only take about 5 days for strong backpackers (20 miles per day with very little elevation gain shouldn't be a problem).
Since it was my brother's first backpacking trip, we didn't cover much ground on our expedition. It was really nice to only hike 7 miles a day and have the rest to play and relax, but it would have been nice to have two extra days on the trip to do some fast-paced hiking. Maybe cover forty miles over the first two days and then slow the pace down to do some fishing and relaxing. I think 2 nights on the island was just a little too short for my tastes.
Unfortunately we had to get to Rock Harbor by the afternoon because we had to be in L'anse, MI the next day to meet up with our good friends, the Geises. So we made haste after eating a gigantic oatmeal breakfast (Eric dished out twice the normal serving for my Dad, and we got a good chuckle at how I had brought way too much of it for three days). We started south on the Lane Cove trail and made our way through the same cool section we had traversed the day before. When we got back up to the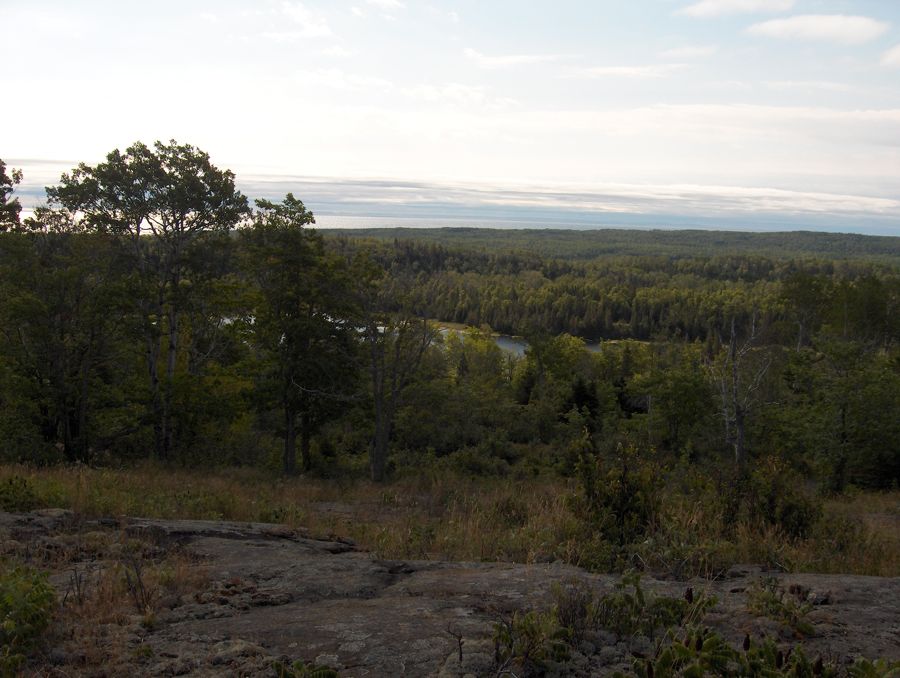 Greenstone Ridge, we headed southeast on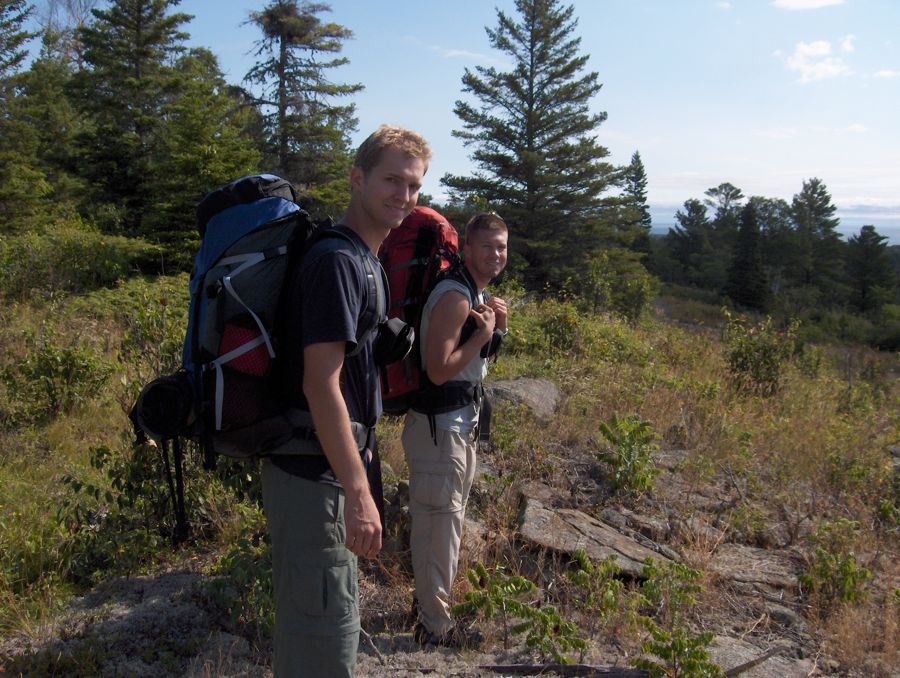 Franklin Trail in order to get back to Rock Harbor Lodge.
Franklink trail brings you through some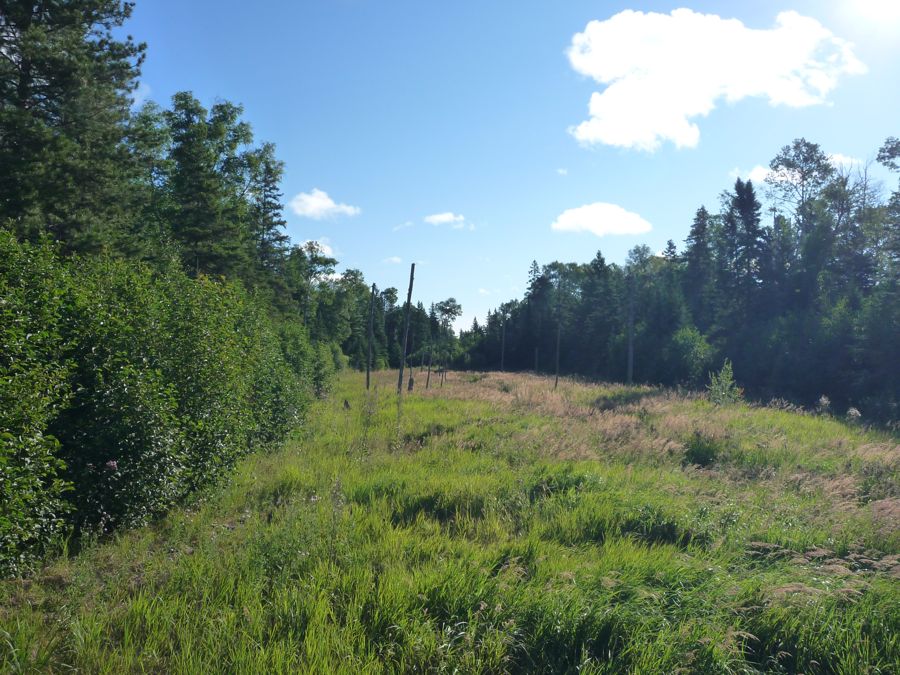 open meadows and around thick-watered pools where the mosquitos visibly take hold. Perhaps it's just my memory of back sweatiness, but when I look at the last picture I can almost feel the humidity in the air. We were taking our sweet time and being quiet, hoping to see a moose drinking from one of the pools in the remaining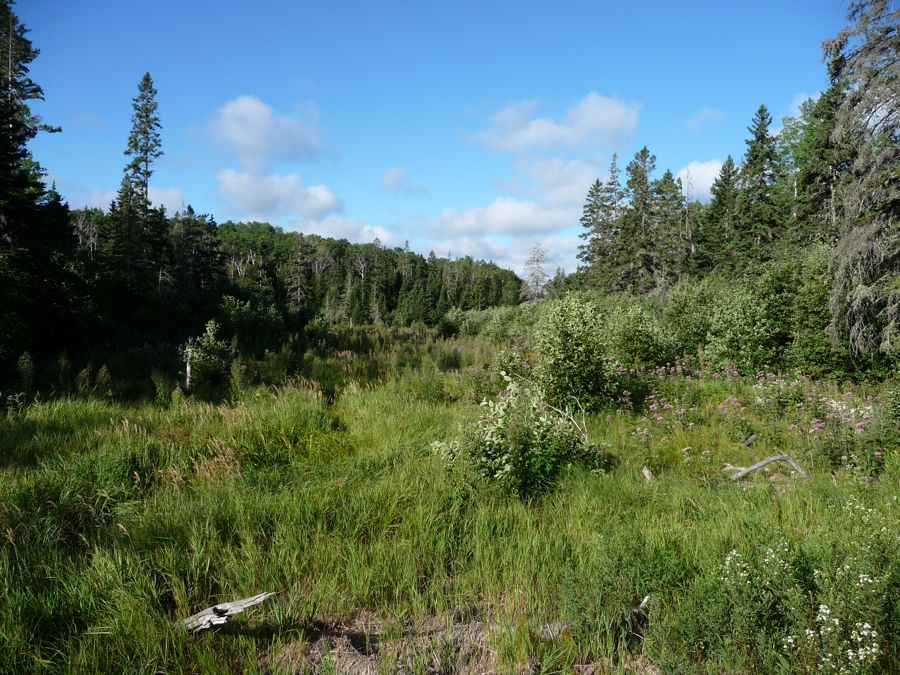 fields. But before we knew it, we were at the junction with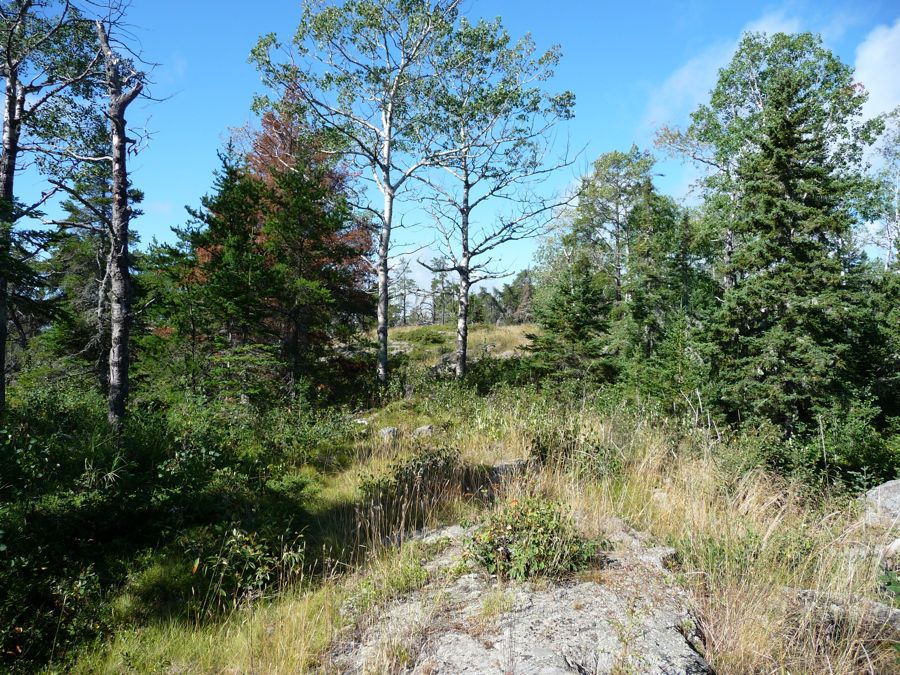 Tobin Harbor Trail.
The shade provided by the trees along Tobin Harbor were a welcome treat. A mile later and we were back at Rock Harbor trail. We stil had an hour or so until the ferry would arrive, so we got some food from the gift shop aattempted to reduce the smell on our bodies for the ferry trip home.
---