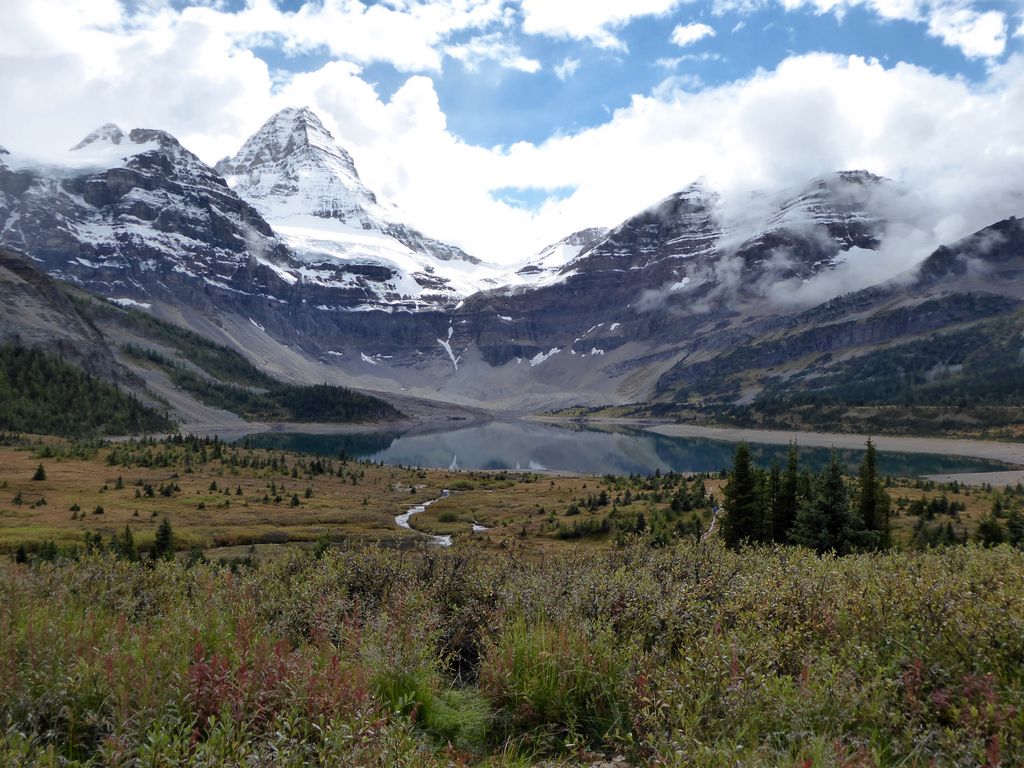 ---
TRIP DETAILS
---
Duration: 4 Days
Min El. : 5,500 ft
Max El. : 7,700 ft
El. Gain: 3,400 ft
El. Loss: 3,400 ft
Distance: 33 Miles
Difficulty: Moderate
Off Trail %: 0%
---
TRAIL MAP
---
---
Days Day 1: 5.5 miles Day 2: 11.0 miles Day 3: 11.0 miles Day 4: 5.5 miles
Nights Night 1: BR 9 Night 2: Mt. Assiniboine Campground Night 3: BR 9
---
OVERVIEW
---
Even with some terrible weather, Mt. Assiniboine does not disappoint. In fact, the whole entire area in and around Banff is just plain wonderful. On top of that, all the people we came across were extremly friendly and helpful, which made the trip that much better.
When we were planning this trip, I couldn't find a whole lot of information about good backpacking routes to do in Banff aside from the stuff they include in the backcountry brochure. Based upon what we heard from other backpackers when we were there, though, Wonder Pass and Mt. Assiniboine are some of the biggest highlights Banff has to offer. So we made a good choice. I will say that the first five or six miles from the Mt. Shark Trailhead are not that spectacular. And although I can't say from direct experience since I hiked in and out via Wonder Pass, it sounds like the route through Assiniboine Pass is similarly dull.
One thing I want to emphasize in this trip report: AIR CANADA SUCKS. I have never had a worse experience with any airline in all my time on this earth. They forgot to load my bag on the plane from SFO to YYC, and because it had all my gear we couldn't start our backpacking trip until they got it to me. To make a very long story short, the process of getting it to me involved communicating with nearly half a dozen employees who all gave me conflicting information about where it was and when it would arrive (the worst part was that half of these employees were in the baggage service department, located in India). The laziness and incompetence of these people was astounding. And people say Americans are bad! Ha!
Notes:
The permit system for this trip is a little complicated. Banff National Park requires reservations for their campsites (which you can make in advance), but Mt. Assiniboine Provincial Park doesn't have a reservation system. So if you want to camp at the Mt. Assiniboine campground, just show up and there'll be a spot for you. There's tons of overflow spots.
Mt. Assiniboine Lodge offers tea, cake, and beer from 4-6. As you can imagine, it really hits the spot after a long day of hiking. They take both Canadian and American dollars (they don't do any exchange rate if you are paying American), as well as credit cards.
Apparently you can have all your gear airlifted to and from the lodge via helicopter. So if you want to avoid carrying a heavy pack, you can pay to have someone else do it for you.
I didn't see it myself, but apparently Assiniboine Pass is nothing to brag home about. I took Wonder Pass in and out, and I'm really glad I did so. Yes, it's steep and tiring. But as John Muir said, "One must labor for beauty as for bread, here as elsewhere."
Prologue: Before we began our journey on the trail, we spent a night at the Banff Aspen Lodge and took in a bit of the Banff nightlife. I must say that this place is jumpin'! If you have the chance, I'd recommend spending some time checking it out. Good restaurants, good shopping, good bars...and I must say...some very, very good looking women out and about :).
I reserved our permit as far in advance as I could (three months: see here for details), but as we'd find out, it's not the most competitive system. At least it wasn't for the times we were looking at. In fact, we shifted our dates around a couple of times without any problems.
The only really unexpected thing we came across was the conditions of the road leading to the Mt. Shark Trailhead. It was a dirt road with a decent amount of rockiness to it. I think a sedan would be able to handle it, but you might bottom out a couple times if you choose to go that route.
---
Elevation Profile
---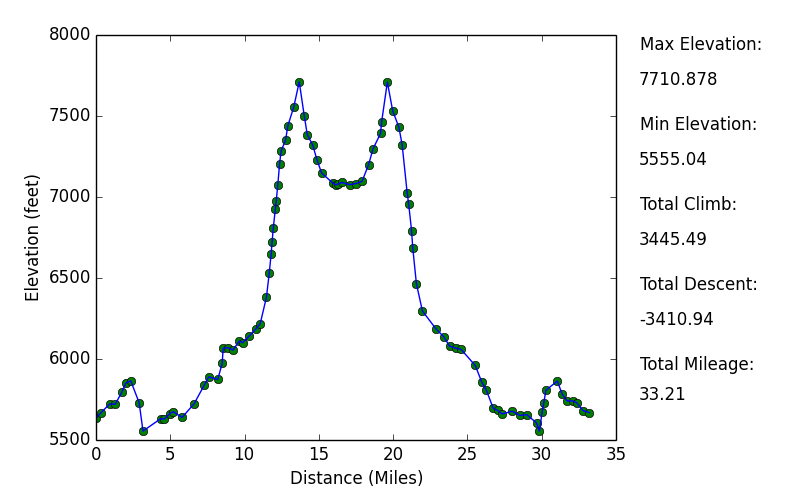 ---
TRIP LOG
---
Day 1 : Mt. Shark Trailhead to Br 9
Night 1 : BR 9 Campground
Min El. : 5,500 ft
Max El. : 5,800 ft
El. Gain : 400 ft
El. Loss : 300 ft
Miles : 5.5
---
Due to the luggage snafu we suffered with Air Canada, we didn't arrive at the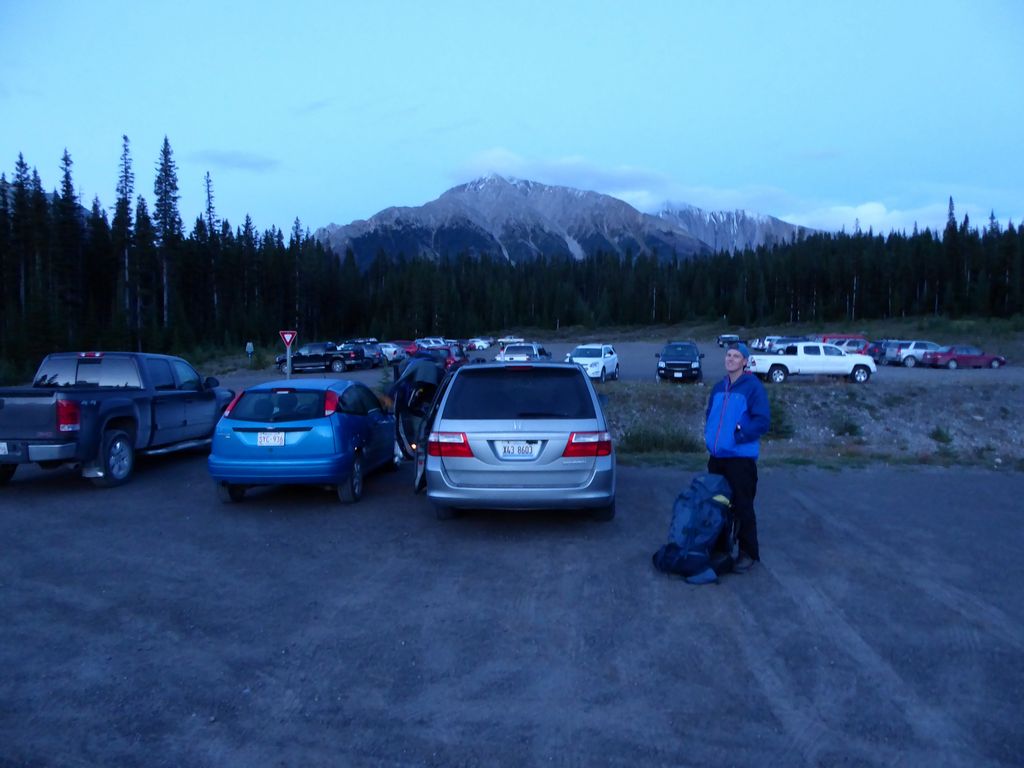 Mt. Shark Trailhead until about 8:30pm. Earlier that day we had gone to the Visitor Center in Banff, and we had been assured by the very nice rangers (seriously, they were so unbelievably helpful!) that the first six miles or so of the trail would be extremely easy to follow even in the pitch dark. Our goal was to make it to Br 9 and spend the night there. That way we wouldn't have an unreasonable amount of hiking to do the following day to get to Assiniboine (this wasn't our original plan, but I won't get into the details of that or else I'll just start getting overly frustrated about the dipshits at Air Canada again).
We had faith the rangers were telling us the truth, but I'm pretty sure we were all scared as hell of running into a grizzly bear in the cold darkness. We continually yelled and screamed random phrases during our walk in the hopes that it would keep any bears at a safe distance. Obviously conditions weren't that good for taking pictures, but I will say that the first several miles of the trail aren't really anything to write home about. Initially you have some good views at the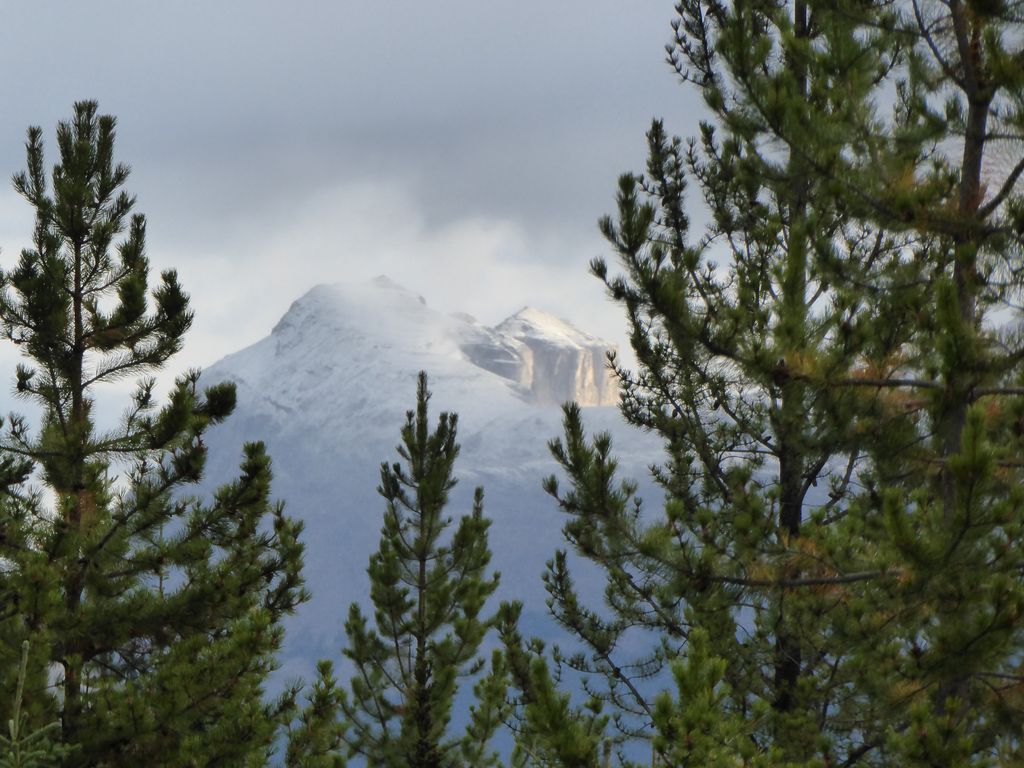 surrounding peaks, but for about 70% of the time before you hit Br 9, you'll be staring at something like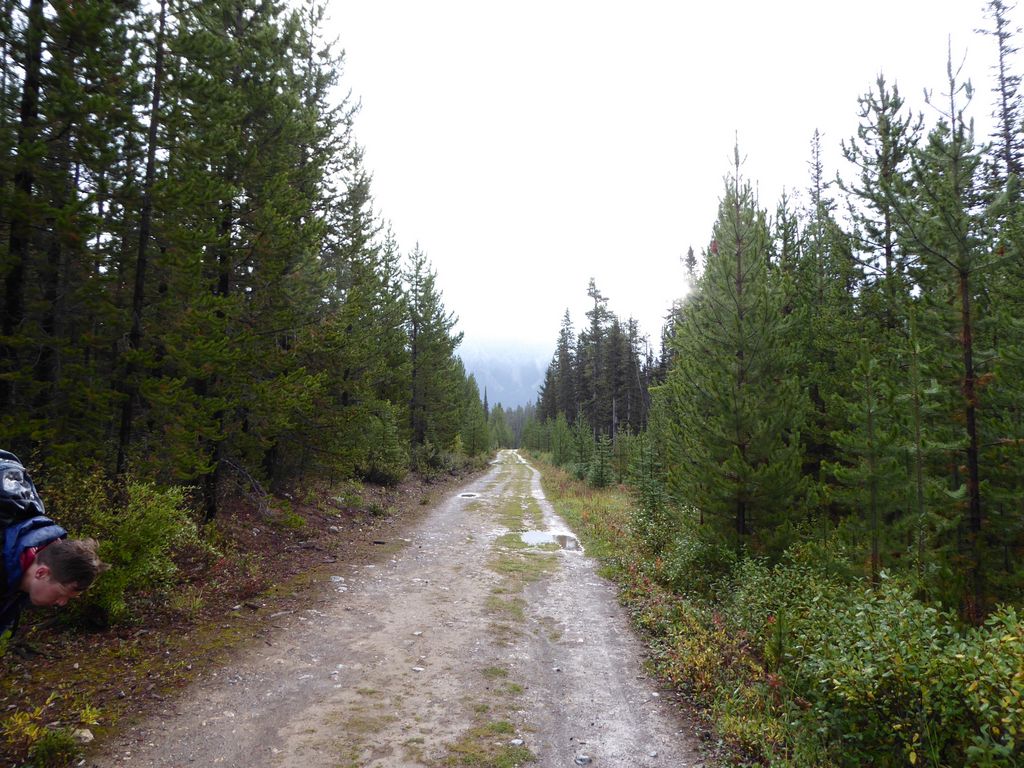 this. Still, there are a couple of cool stream crossings and a few good views out over the Bryant Creek.
At about 10:30 we arrived at Br 9, set up camp, and ate a quick meal before getting in bed.
---
Day 2 : Wonder Pass to Mt. Assiniboine
Night 2 : Mt. Assiniboine Campground
Min El. : 5,600 ft
Max El. : 7,700 ft
El. Gain : 2,100 ft
El. Loss : 700 ft
Miles : 11.0
---
When we woke up, we realized we had quite a few neighbors at Br 9. A lot of them turned out to be very friendly. They all told us about how we could get tea, beer, and cake at Mt. Assiniboine Lodge if we got there between 4 and 6 o'clock. They also told us that if we tried to seek shelter outside of these hours, we would be turned away. Gotta pay for that comfort!
While we ate breakfast, we discussed the gameplan for the day. It turns out that there was a bit of misunderstanding about what we were going to do. I had assumed we'd go up Wonder Pass and come down Assiniboine Pass, but Jason thought we were going to do it the other way around. The reason I wanted to go the way I did was that I'd much rather go up a steep slope than down it since it's much easier on the knees. But Jason and Eric both wanted to avoid the strenuousness. The good news is that we are all pretty level-headed guys, so we made a decision that everybody was cool with: we'd split up at the upcoming junction and do separate routes.
I was a bit scared about hiking by myself in grizzly country, but we had seen enough people around where it wasn't that terrifying of a prospect. I figured if I kept shouting at the top of my lungs and kept my bear spray ready, I'd be ok. You may disagree with this logic, and I can't really argue that what I did wasn't dumb. But luckily it all worked out and I lived.
The next two miles or so were just like the first segment: a lot of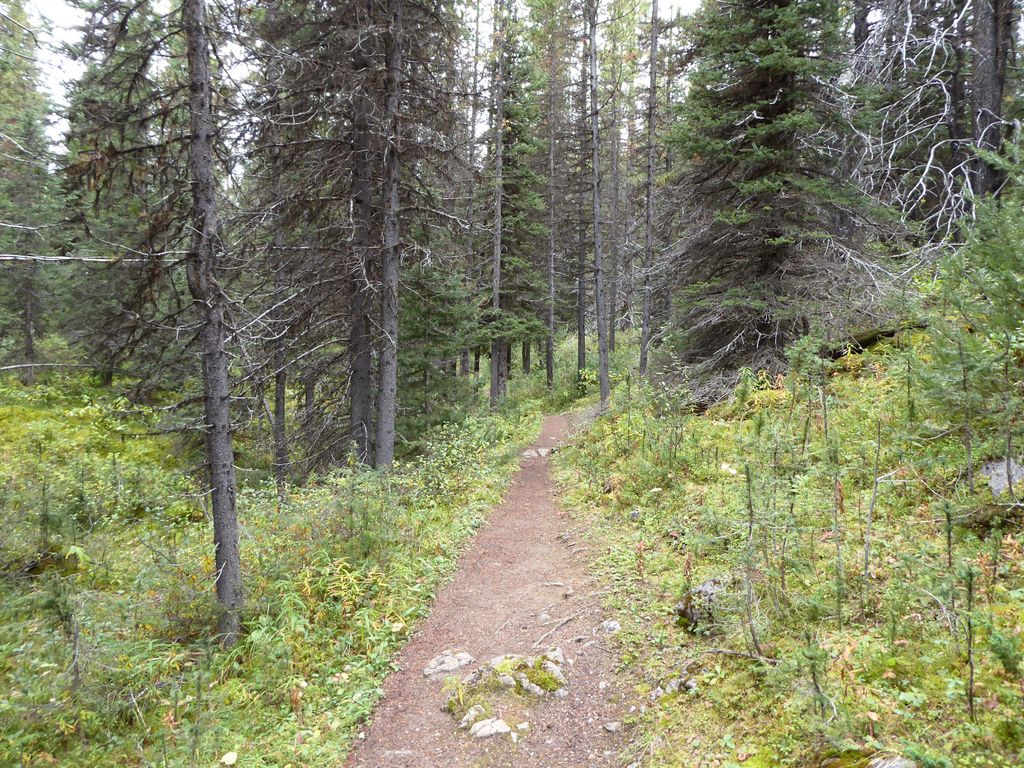 forest blocking the view. However, that's not to say there isn't anything to look at. Banff had some of the best fungi I've ever seen. I don't think I've ever seen such a wide diversity of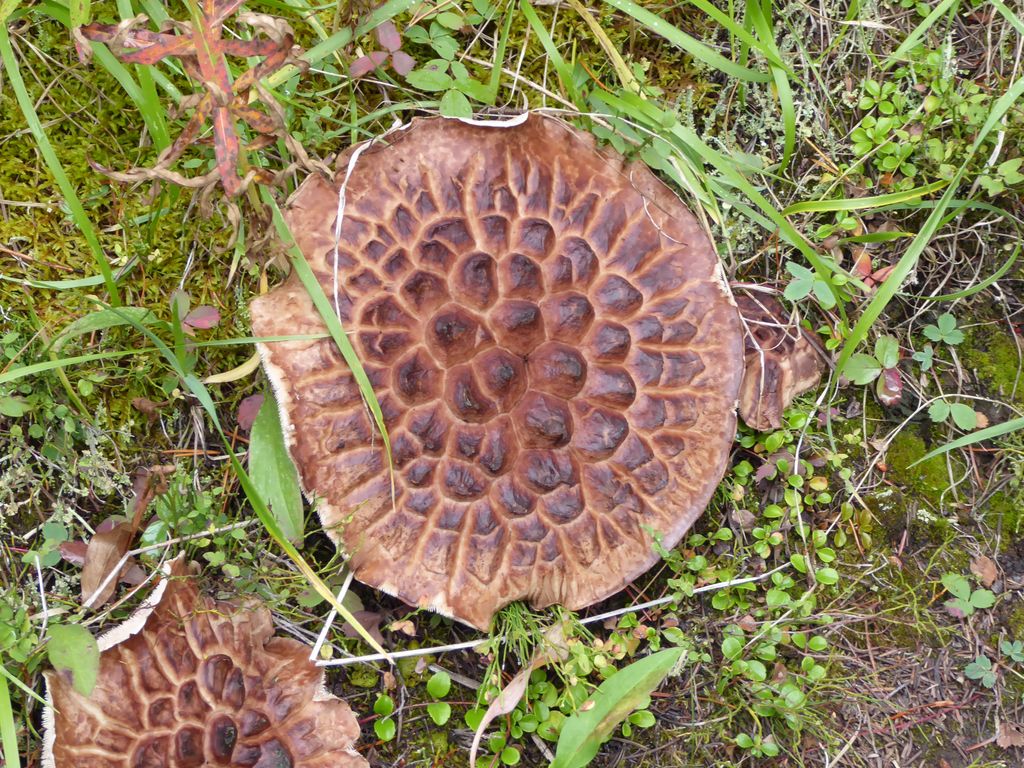 mushrooms in my life!
Things started to get good about a mile or so after we split up. The trail along Marvel Lake gets really awesome really fast. The sky was pretty grey (the forecast for the next few days was pretty abysmal), so most of the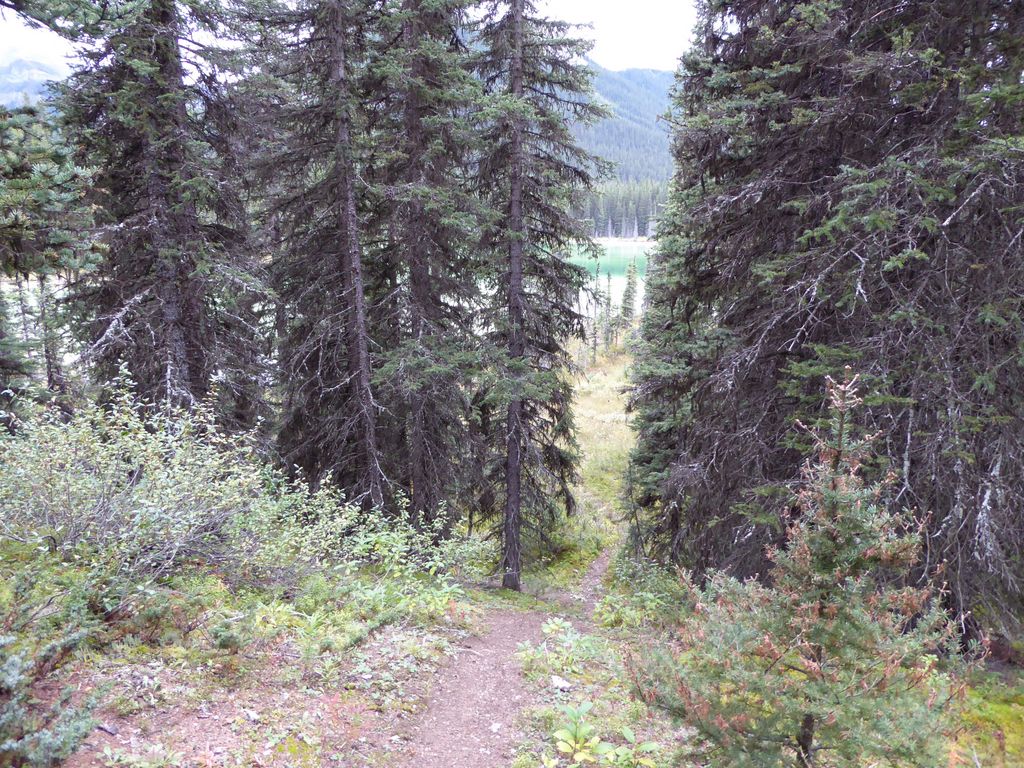 photos I took of it didn't turn out so well. I did manage to get a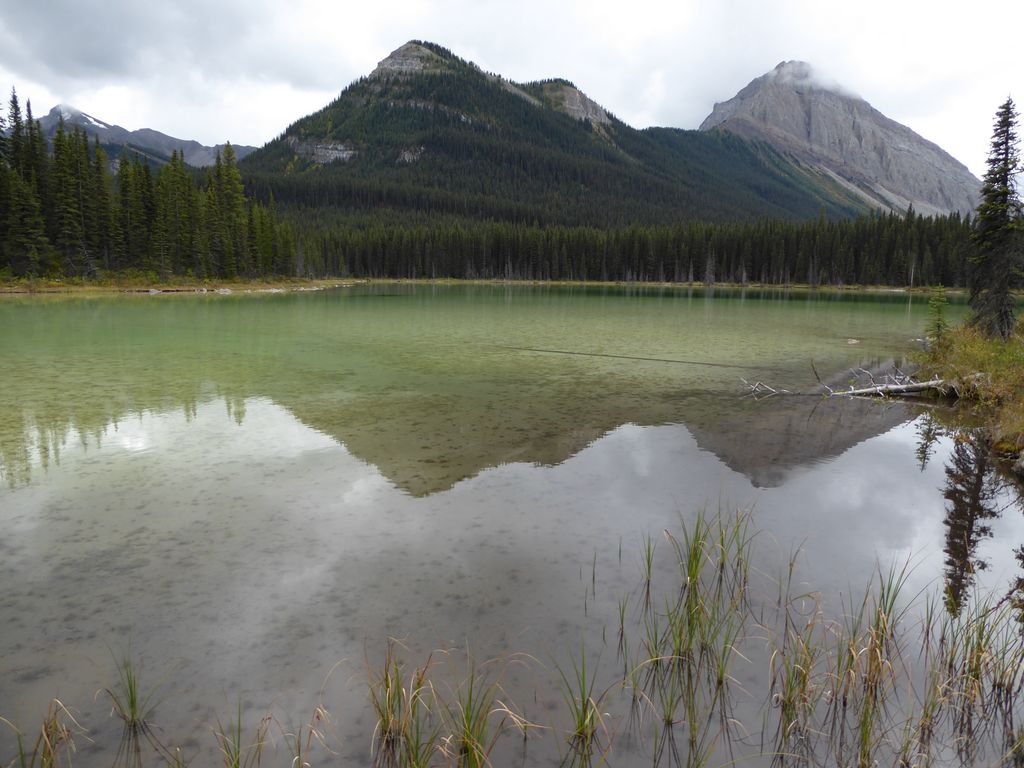 few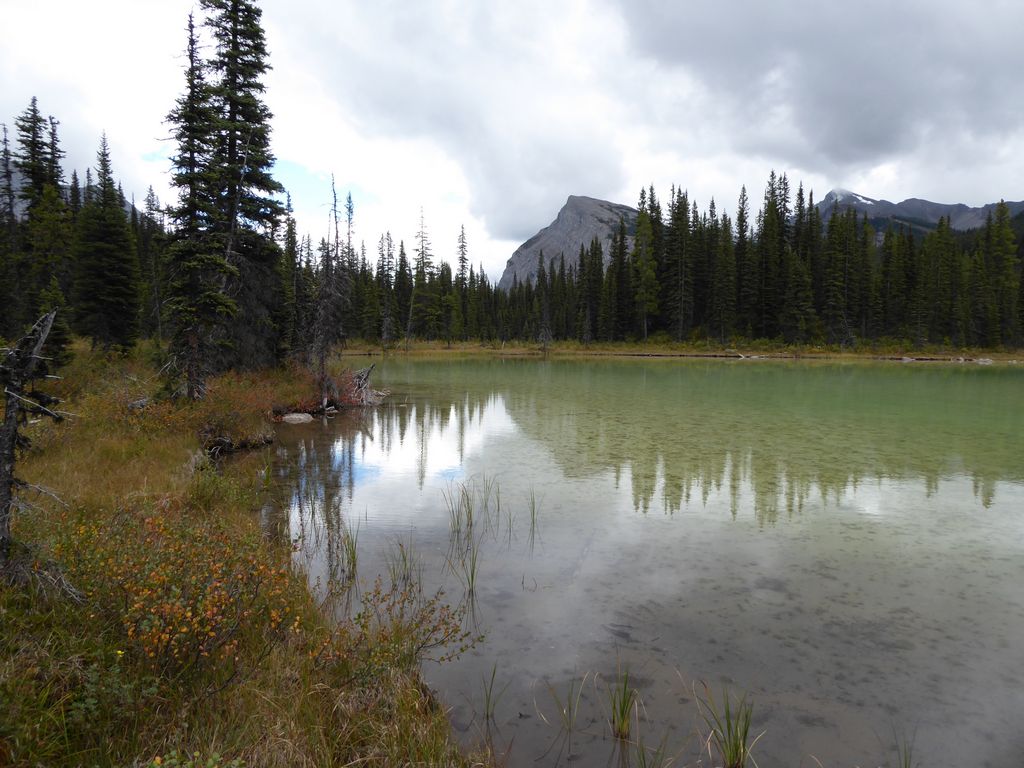 good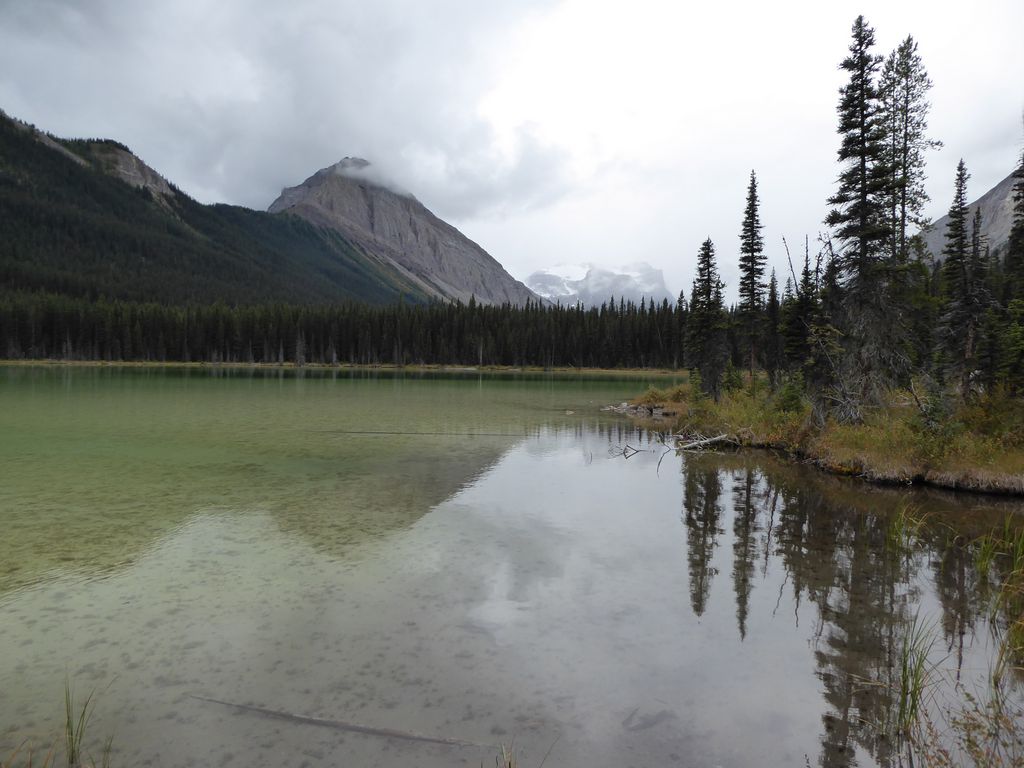 ones, though.
As you can see on a map, the trail splits off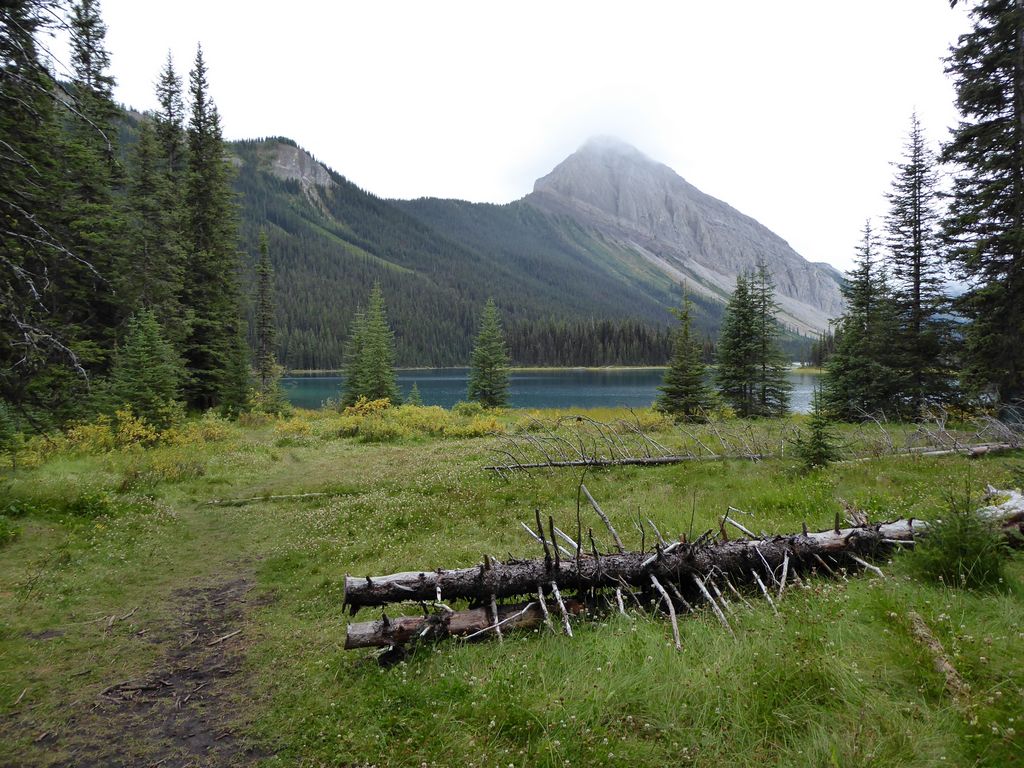 from the lake after a few miles. So if it's a hot day, I'd recommend filling on water at this point. There are several streams flowing down the mountain on the way up to Wonder Pass, but it's not clear that they flow year round.
When the trail first peels away from the lake, the views disappear once again. Every once in awhile you'll get a good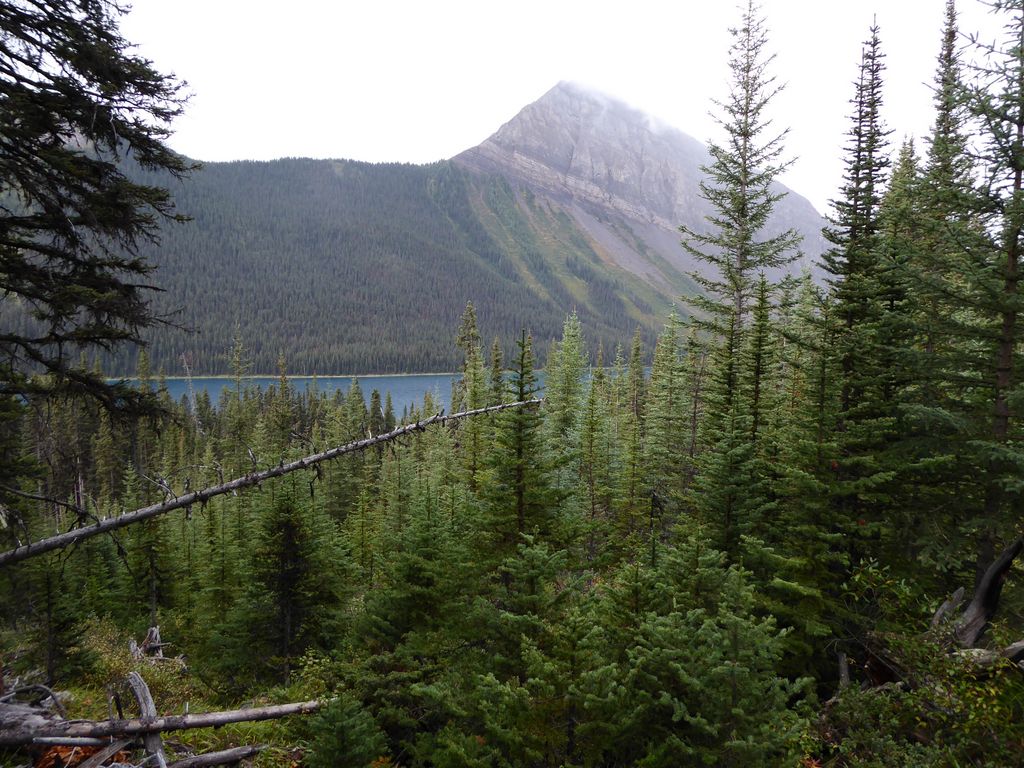 glimpse, but I'd say there are two miles or so where you're just looking at more dense cover.
After these few miles, though, damn...it gets pretty spectacular. The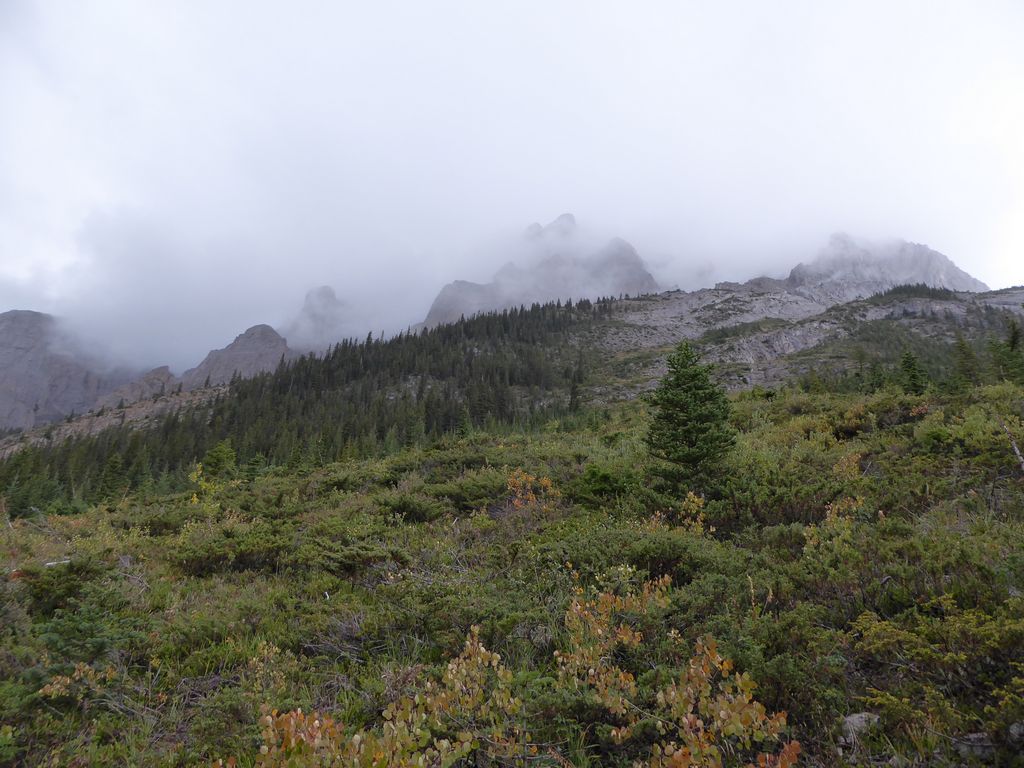 peaks above the trail looked so ominous covered in fog and exposed to the howling wind. And the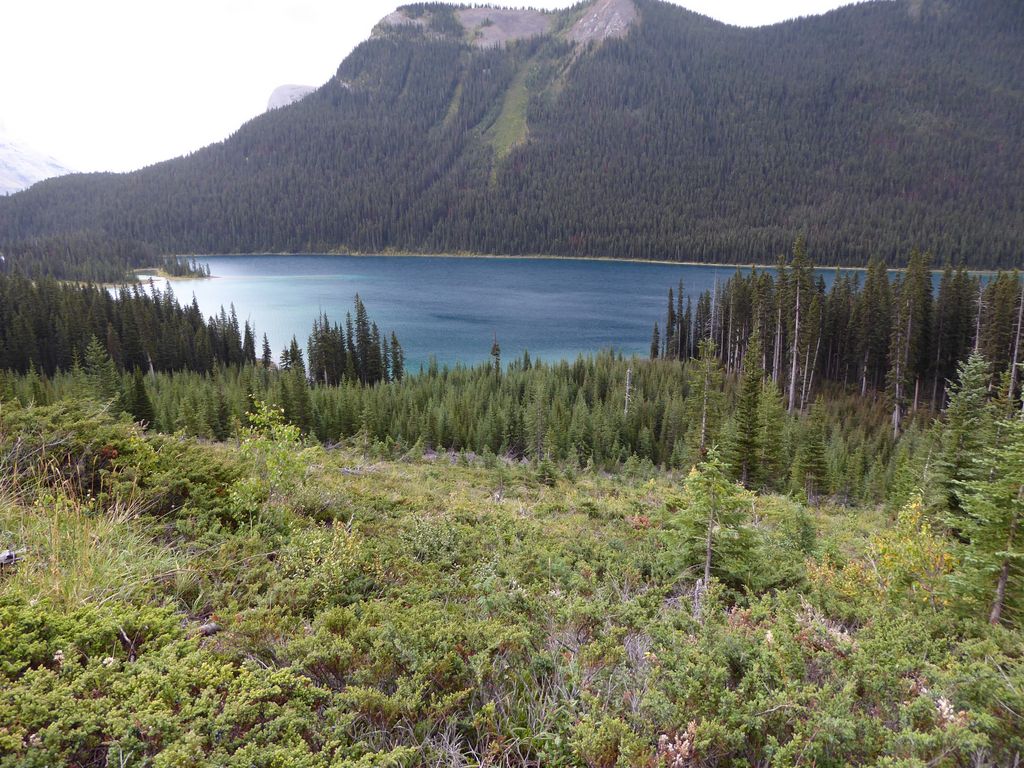 deep blues of the lake? Oh my, the deep blues.
Looking at a topo map, one would think this section of the trail would be pretty straightforward. For the most part it is, but there are several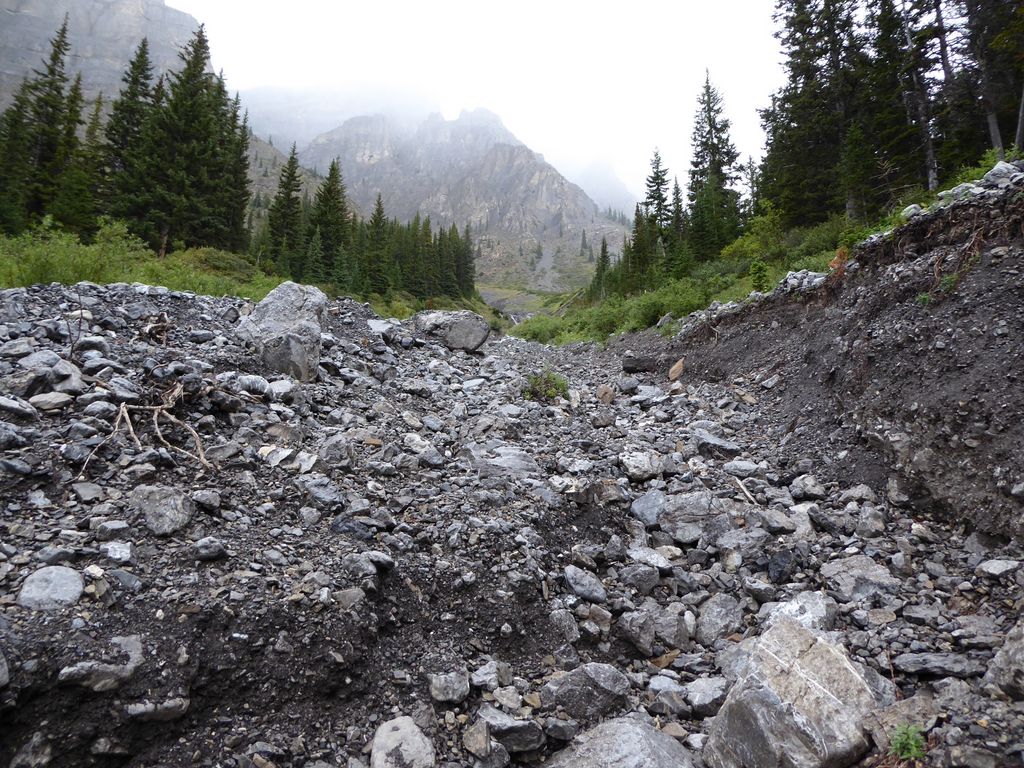 gullies that you must cross, and the footing ain't easy here.
As I walked, I was so delighted (despite the lousy forecast) that we had chosen the time of year that we did to visit Banff. The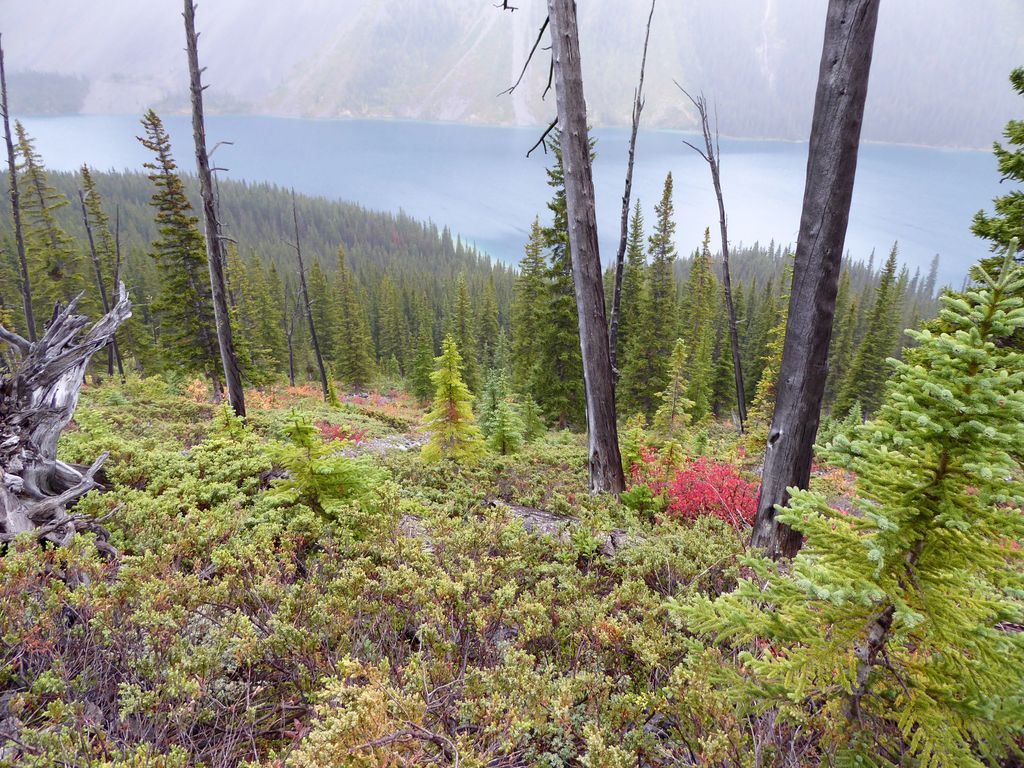 reds and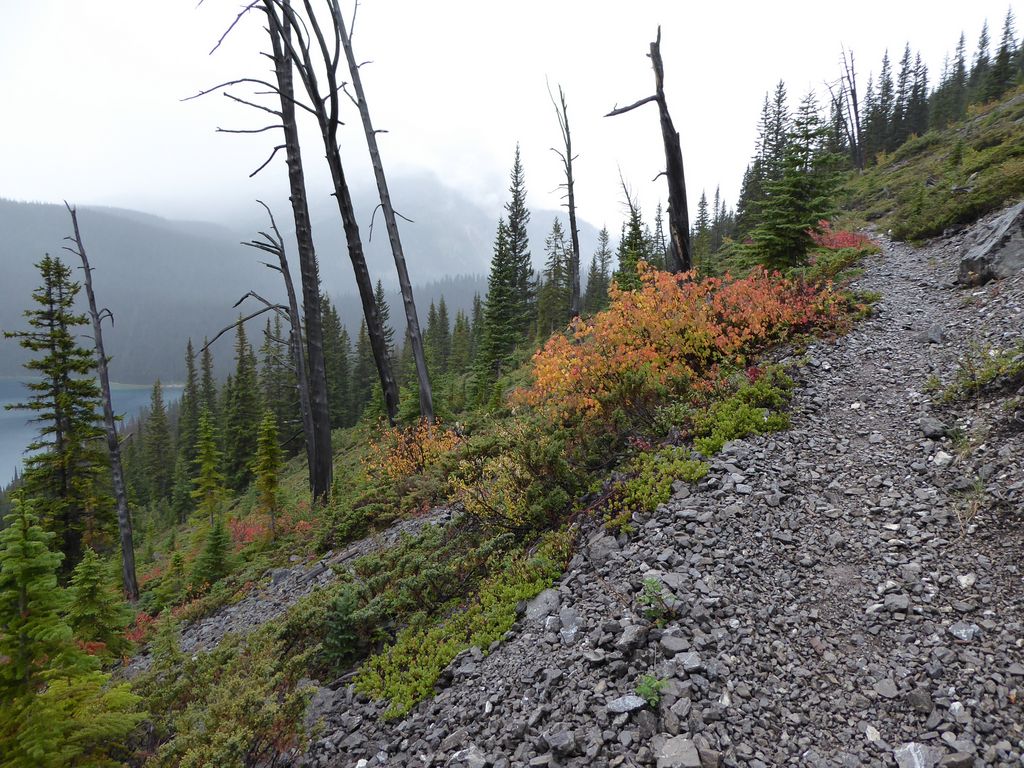 oranges were so incredibly vibrant, especially in contrast with the grey skies. While it didn't have the same multitude of colors,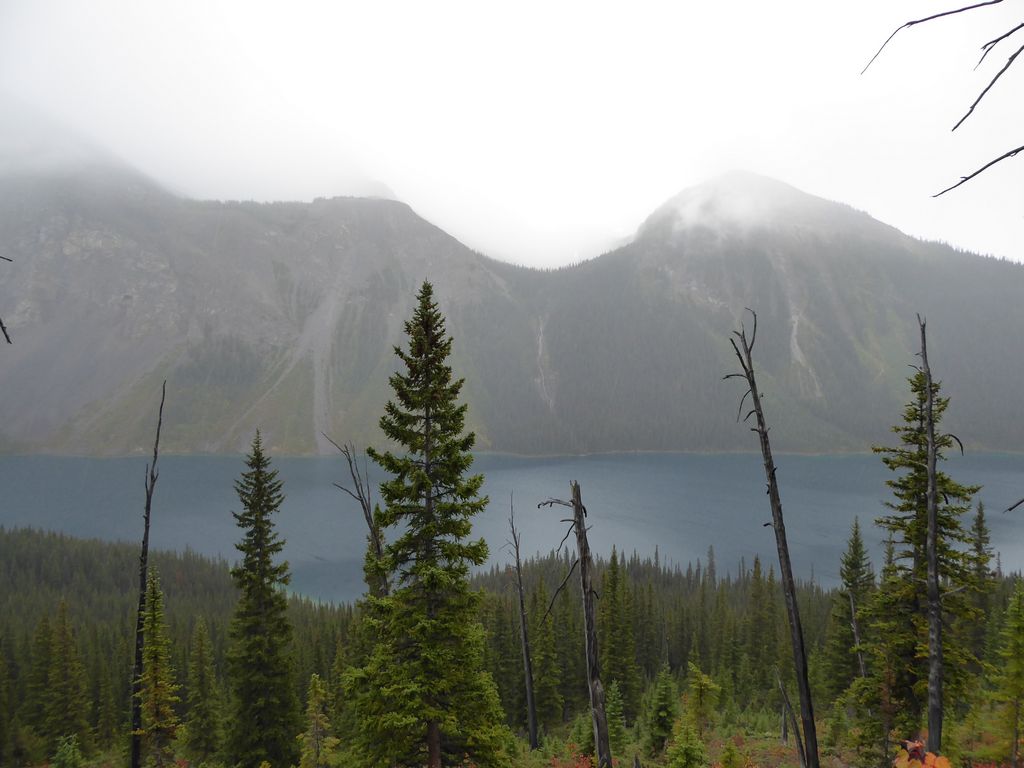 the view across the lake was equally enticing.
So these first six miles from Br 9 were fairly easy, but you know what's coming next, right? Yep, good ol' switchbacks. A lot of them. The trail rises about 1600 feet (~500 meters) in about a mile and a half, so it's no joke. However, I will say that the trail is remarkably well maintained here, so aside from being tough on the cardiovascular system, it's not a bad go. This whole time, I had seen 4 or 5 groups of people coming down while I was going up. So not a lot of traffic, but a decent amount.
When I got to about 7500 feet, the rain that had been consistenly falling turned into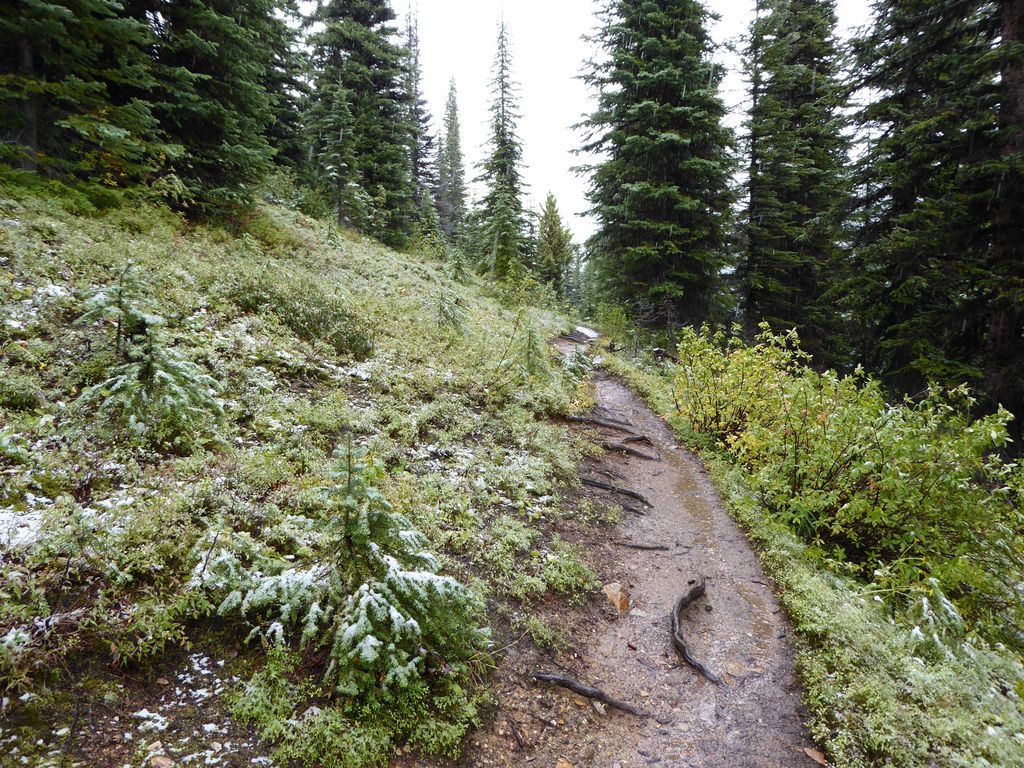 sleet and snow. It wasn't terribly cold, though. So it was actually pretty pleasant.
While I do like switchbacks, I'm always excited when they end. In this instance, the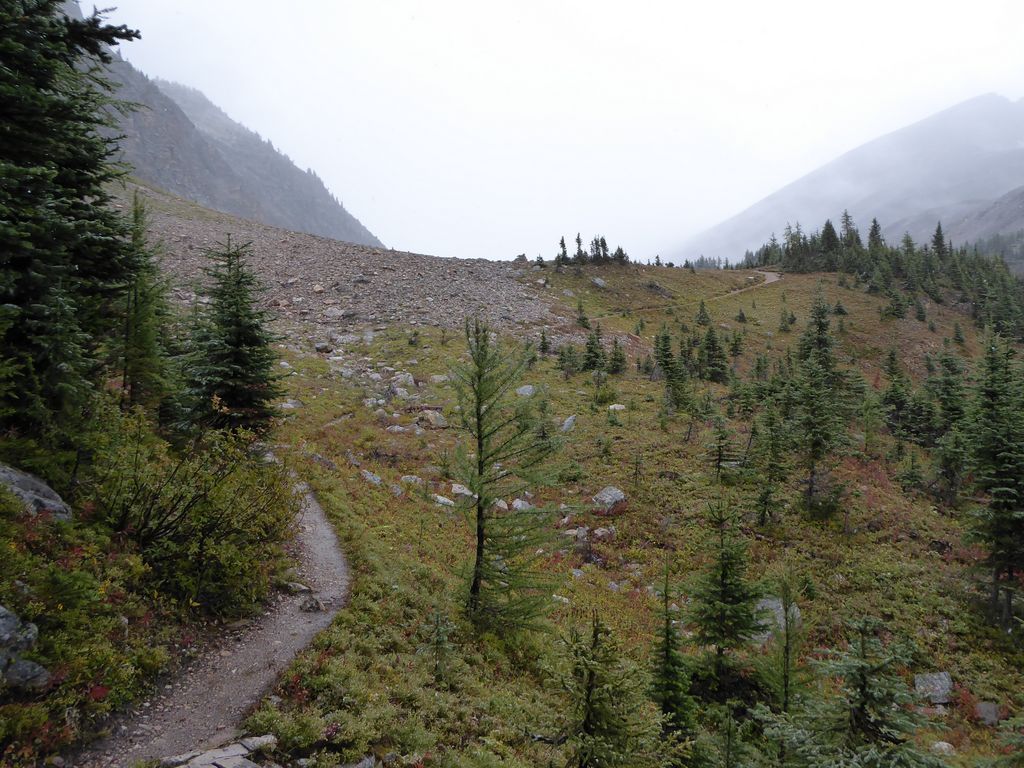 final switchback brings you out into an absolutely fantastic area. I kept turning around to look back down at the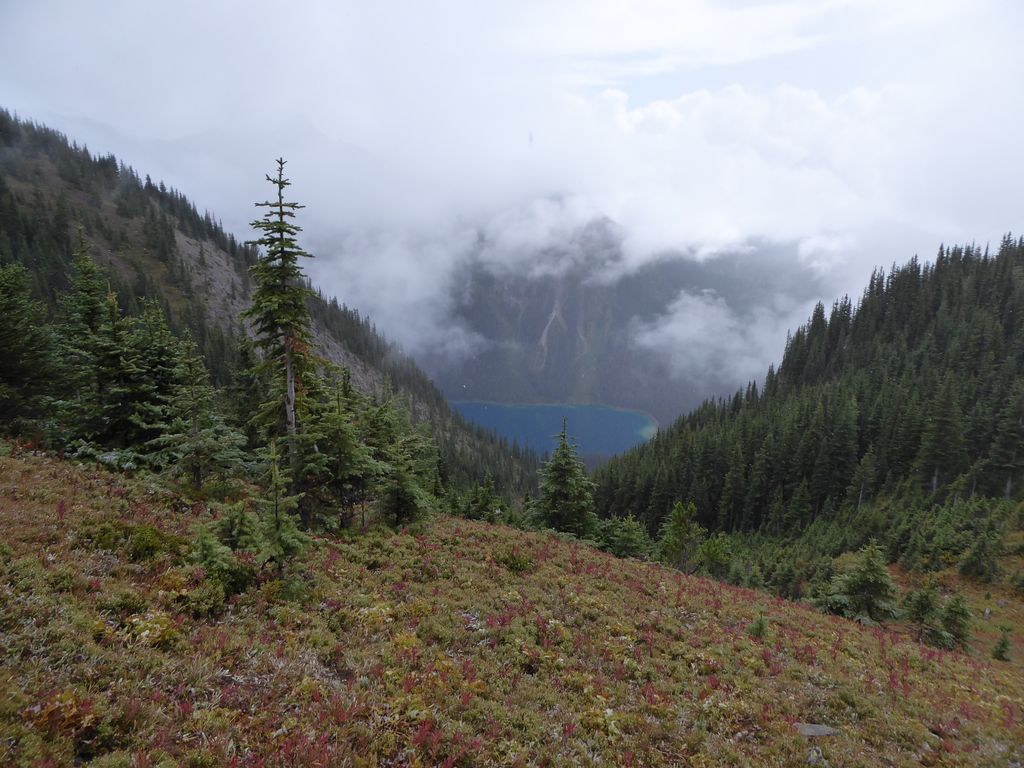 dramatic views of the lake. I couldn't see past the ridge on the other side because of how cloudy it was, but you can look further down in my pictures to see how cool it looks when the clouds do open up.
Without hesitation, I can say that the next mile or so is one of the coolest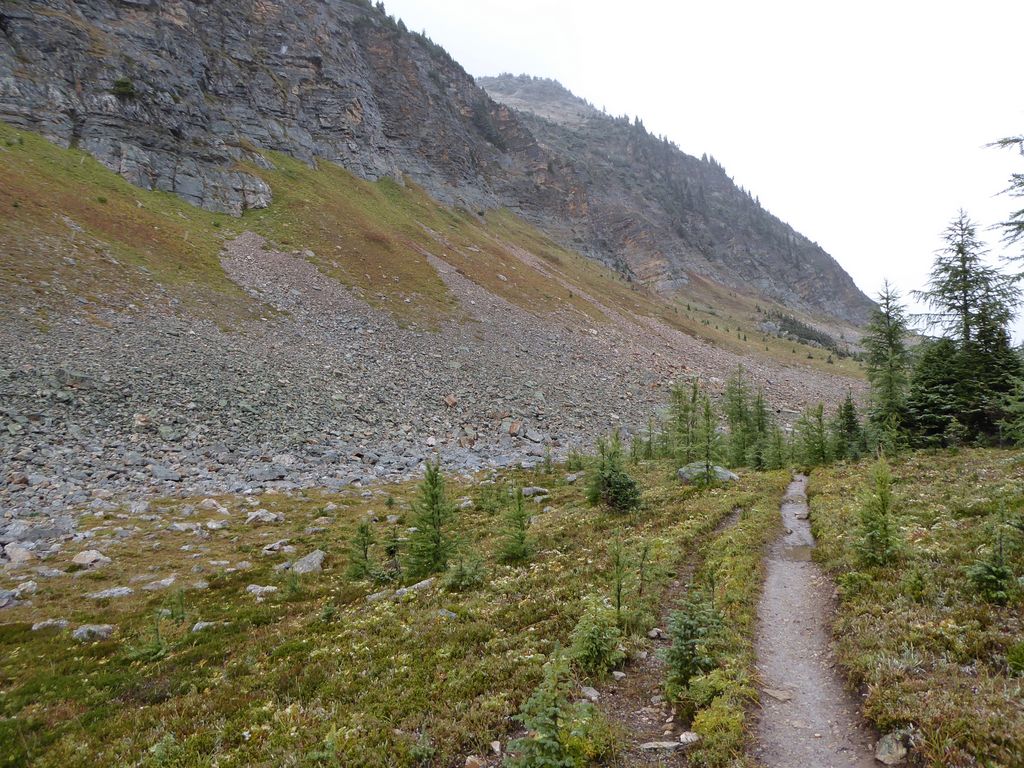 stretches of trail I've ever been on. This impression was probably magnified by the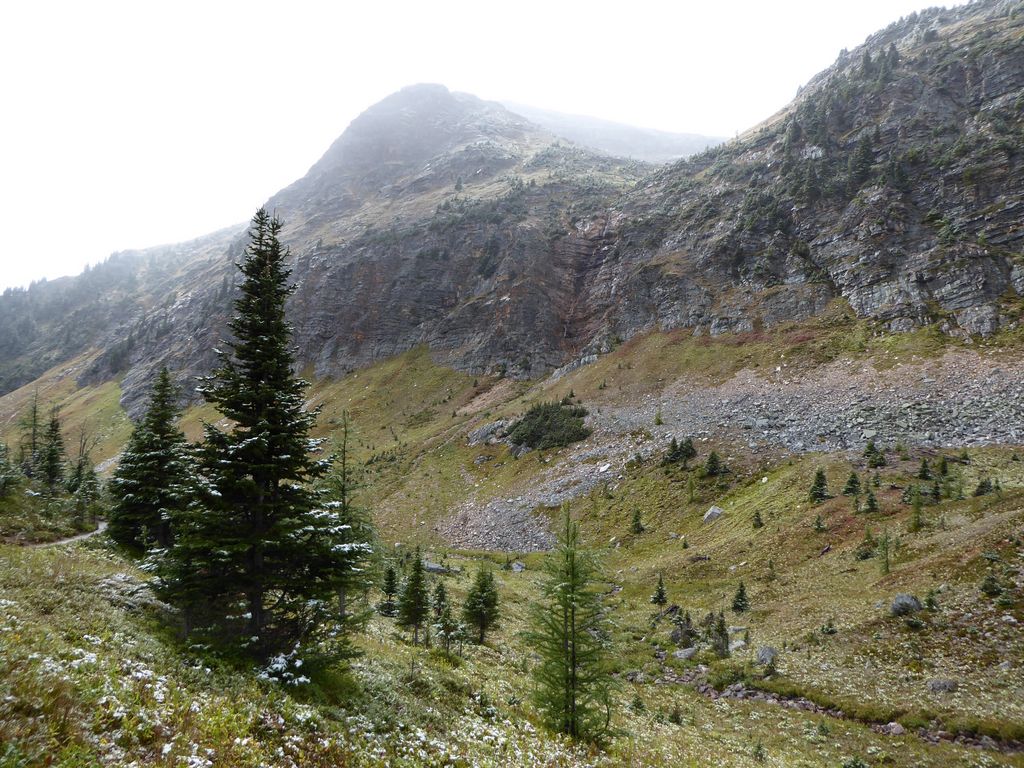 layer of snow that had started to accumulate on the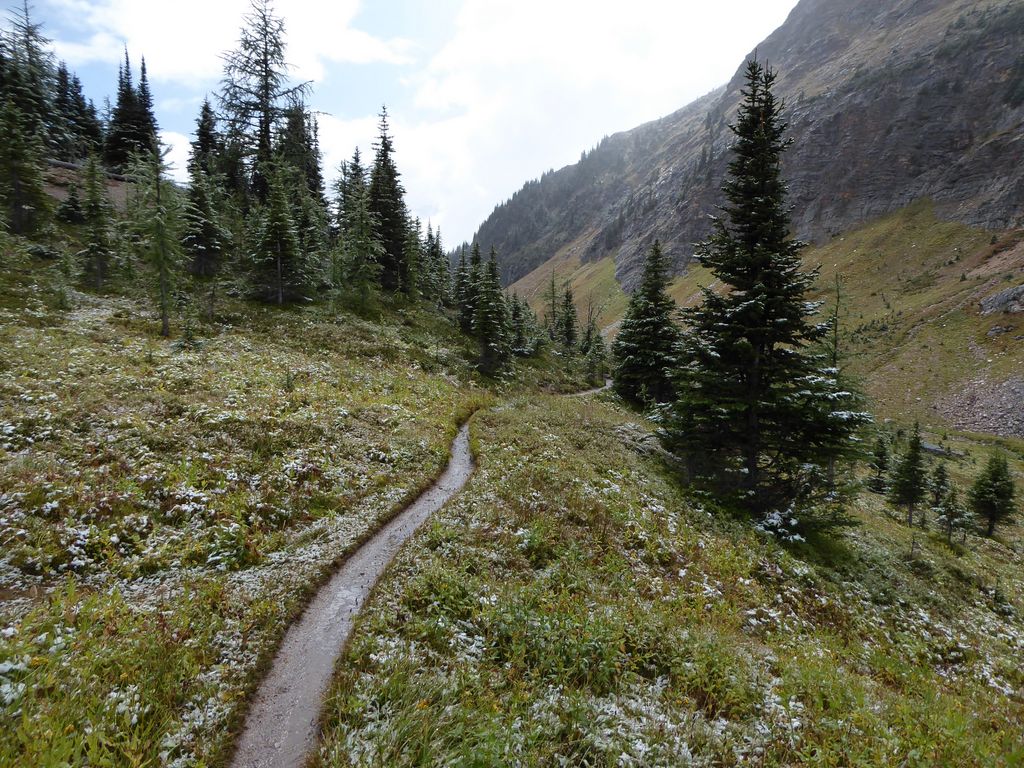 pines along the way. Or maybe it was the absolutely stunning way that the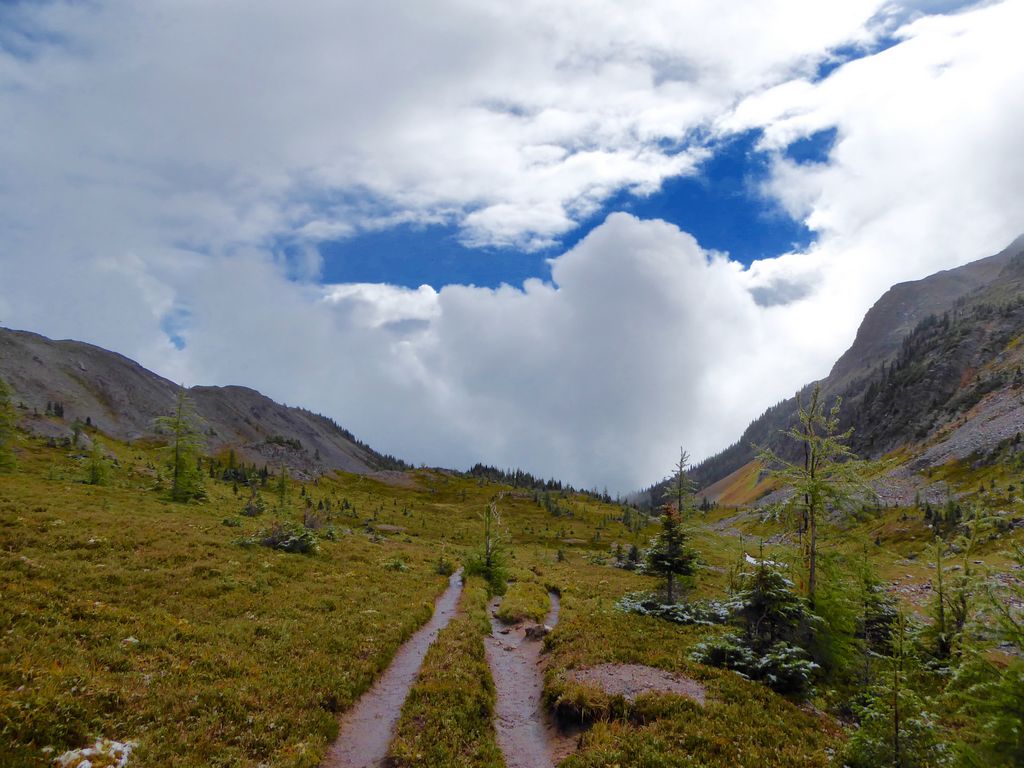 clouds were opening up ahead of me, or the dramatic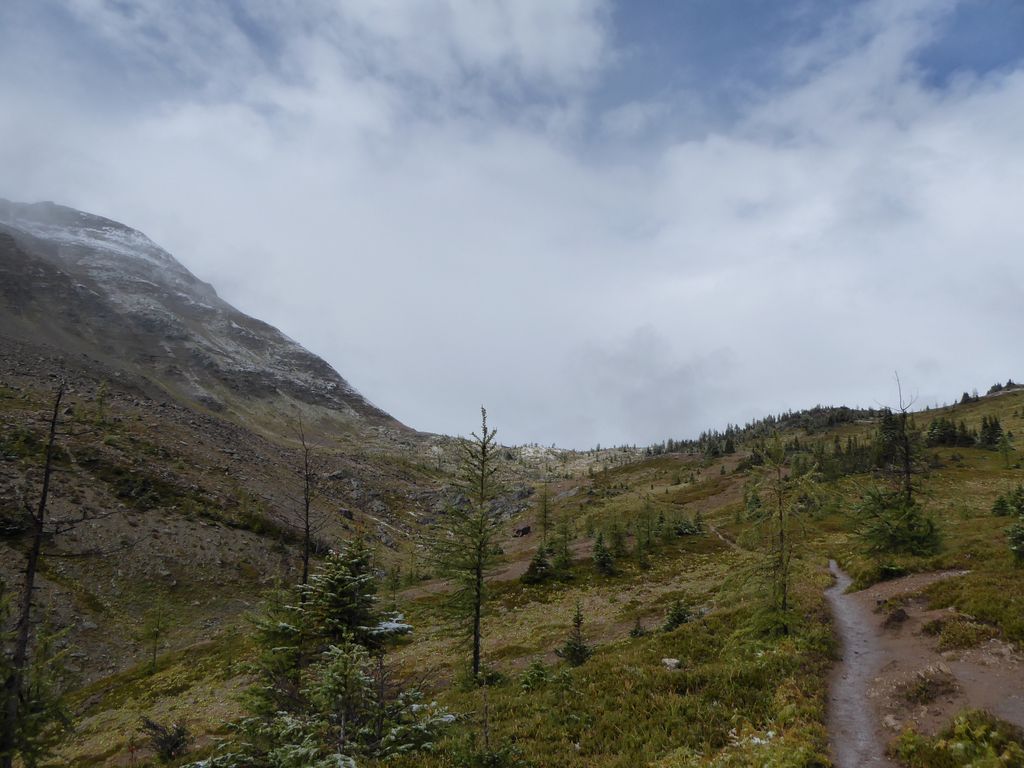 ridges that bound the small plateau on each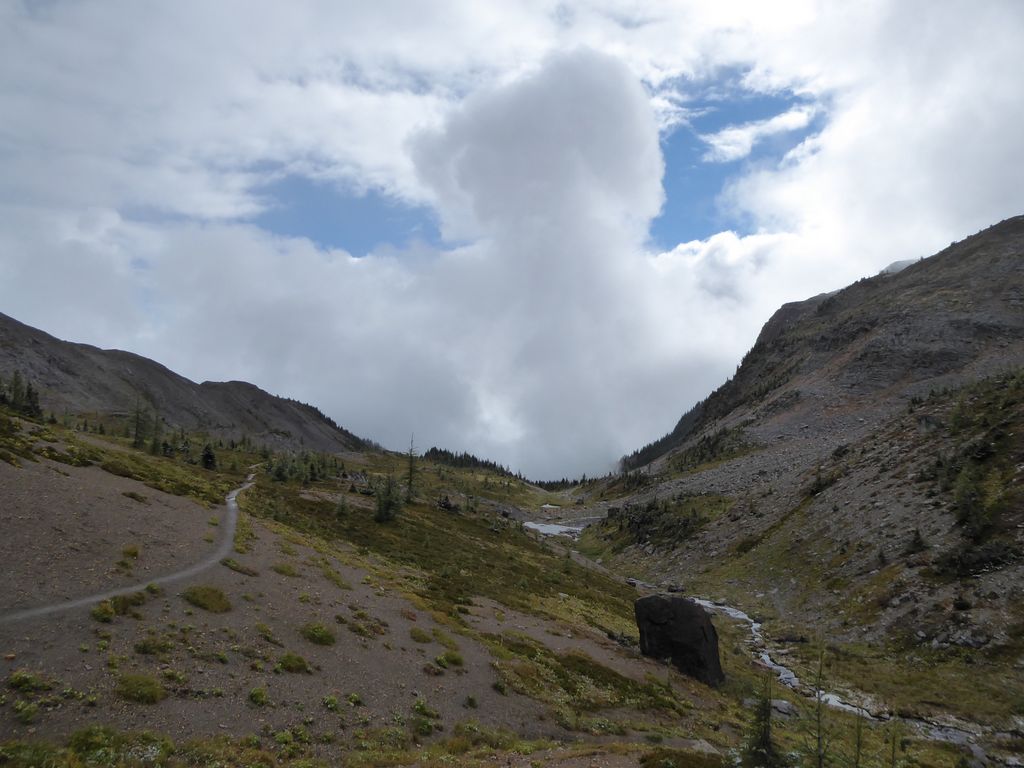 side. All I know is that Wonder Pass is truly worth the hike.
When I arrived at the "true" pass (where they have their little sign informing you that you're at the pass), I sat down to have some lunch. The rain had let up for a bit so it was a great time for a break. Before I knew it, a few chipumunks joined me for my meal. One got up quite close to me, and I was amused to see that he was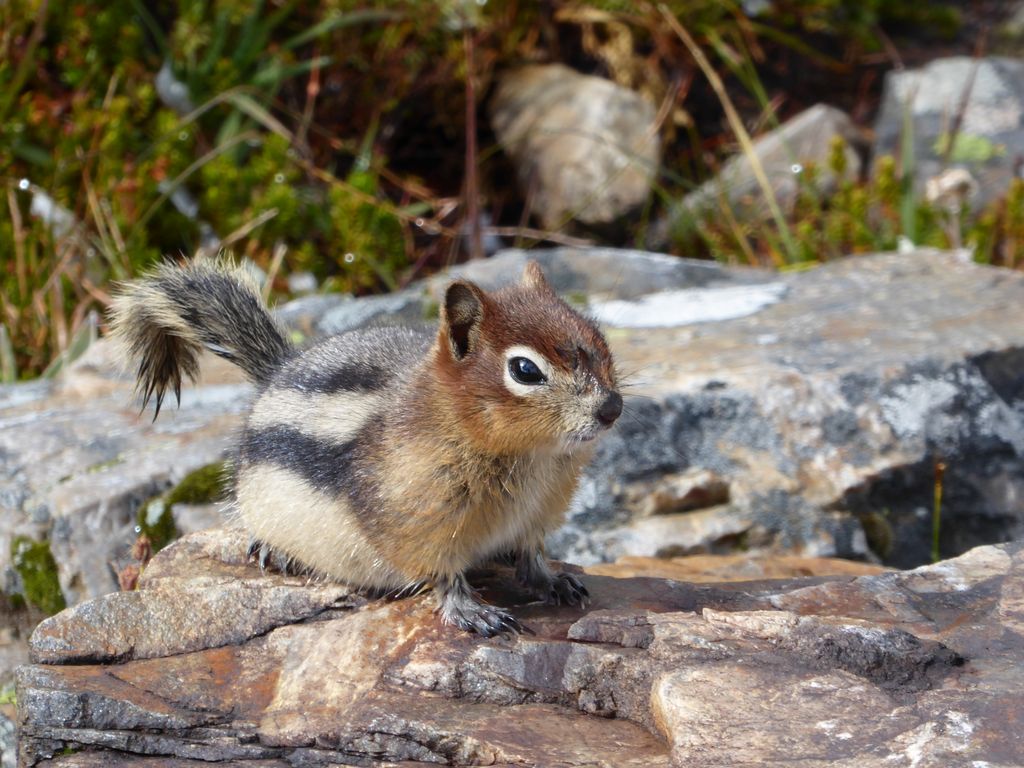 thoroughly soaked from the long spell of rain we had been enduring throughout the day.
Now that I think about it, the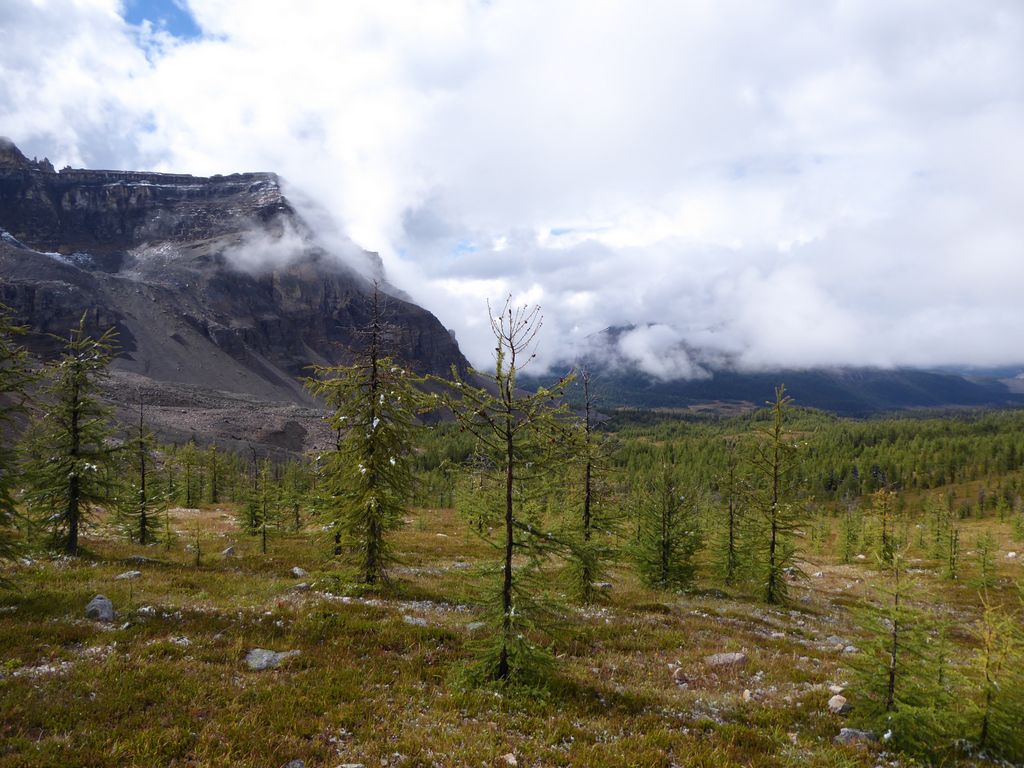 descent down to Assinboine Lodge from Wonder Pass was probably just as marvelous as the pass itself. There is a short set of switchbacks with some of the most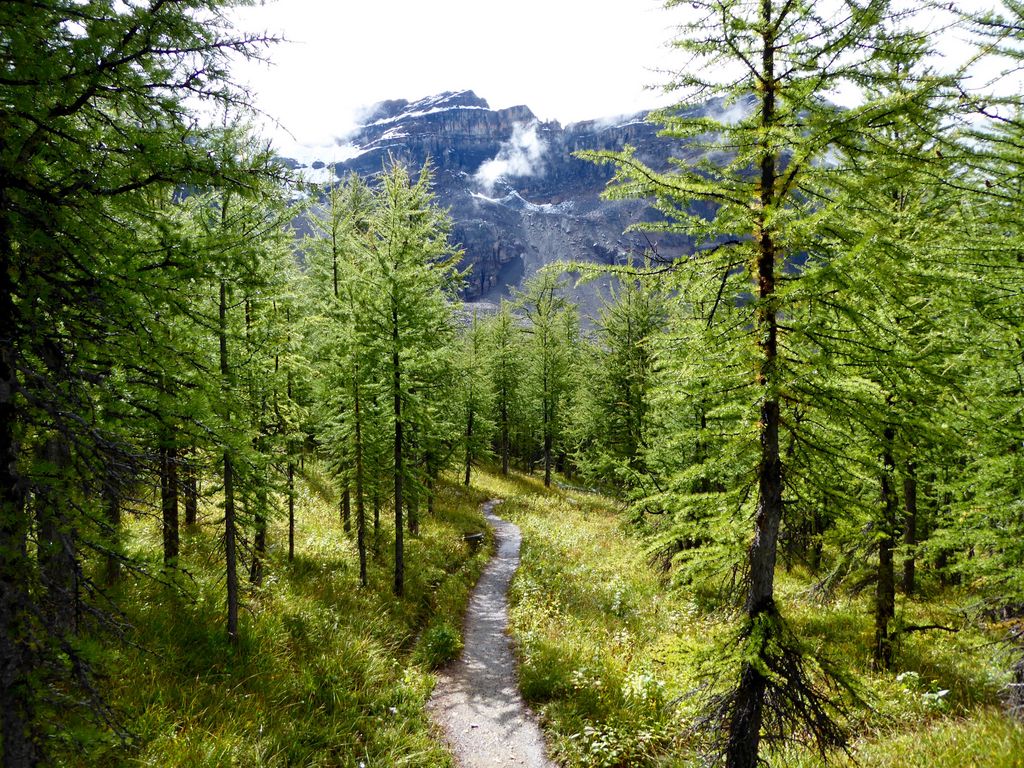 beautiful larches I've ever seen (I actually haven't seen that many, but still). Once the trail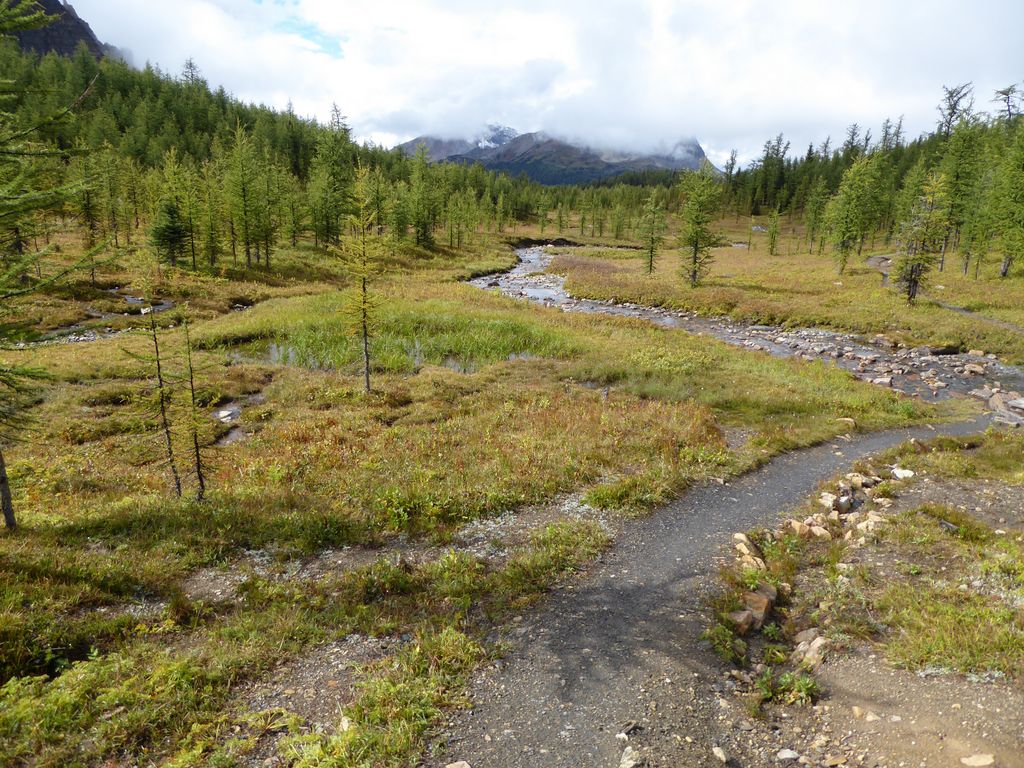 levels out, it parallels a nice stream and eventually passes by a small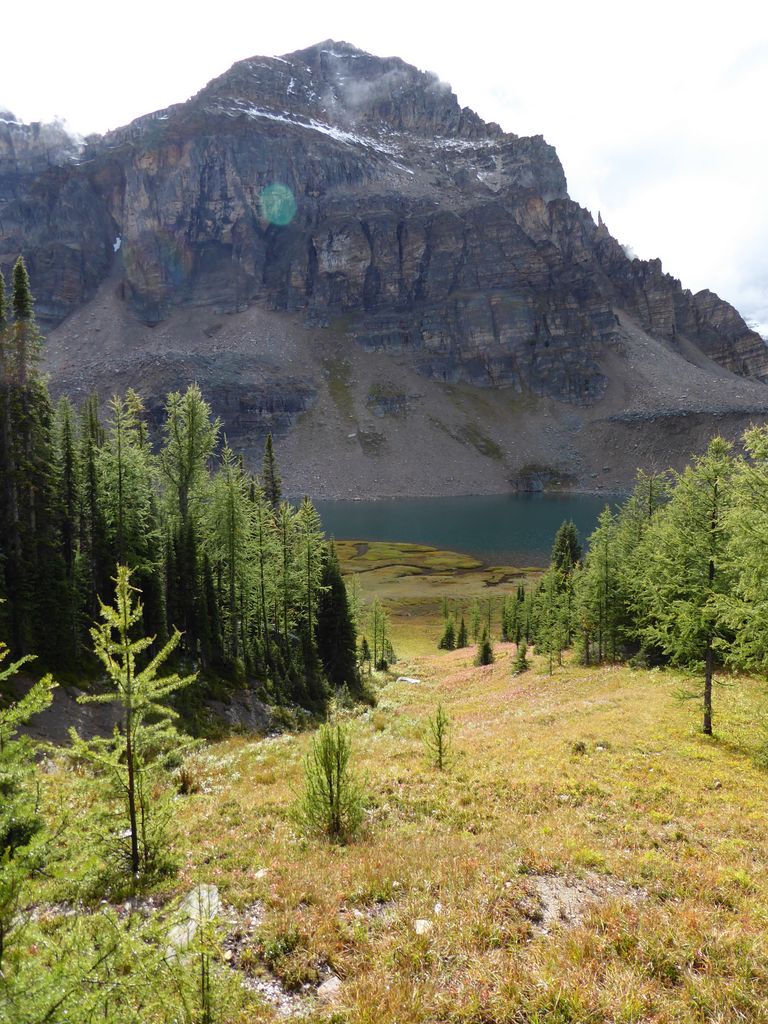 alpine lake.
Within about an hour and a half of leaving the pass, I started to come upon signs for the lodge. I was starting to get very excited by the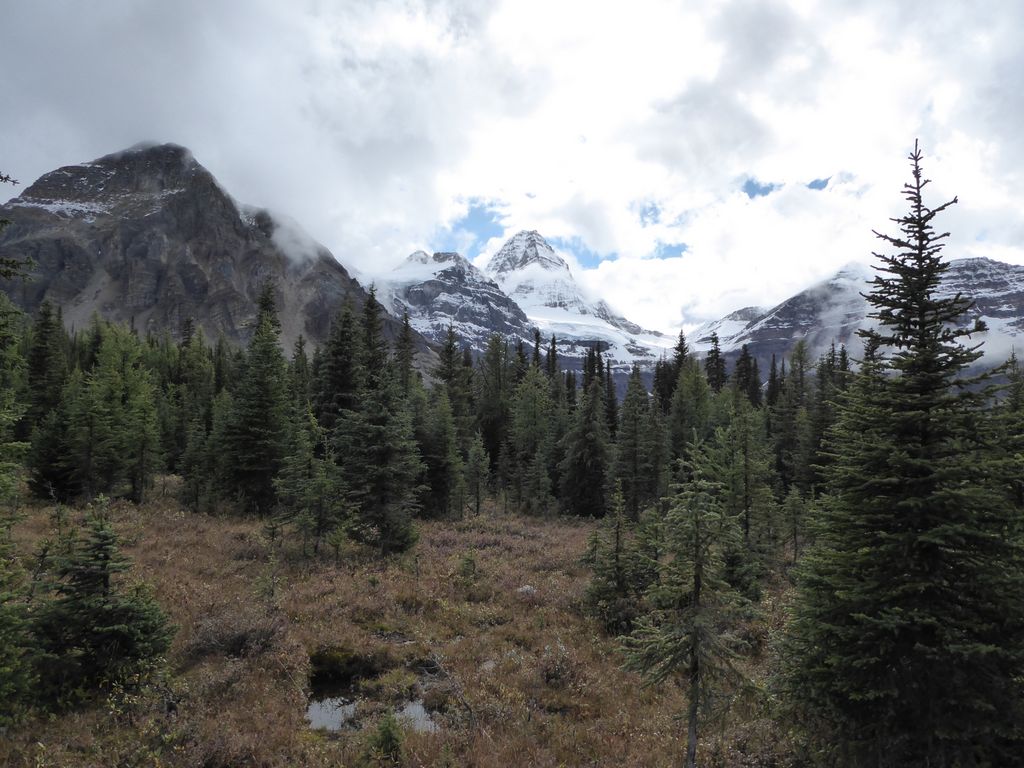 glimpses of Mt. Assiniboine. Believe me, it is every bit as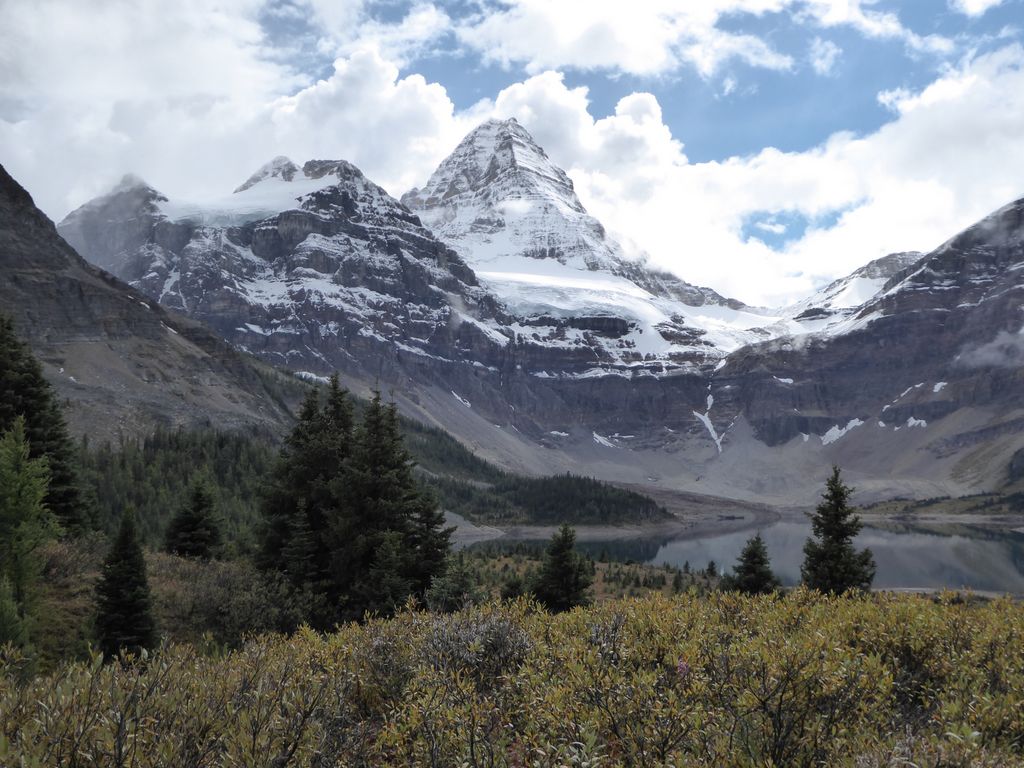 impressive as you've heard. It's like something out of an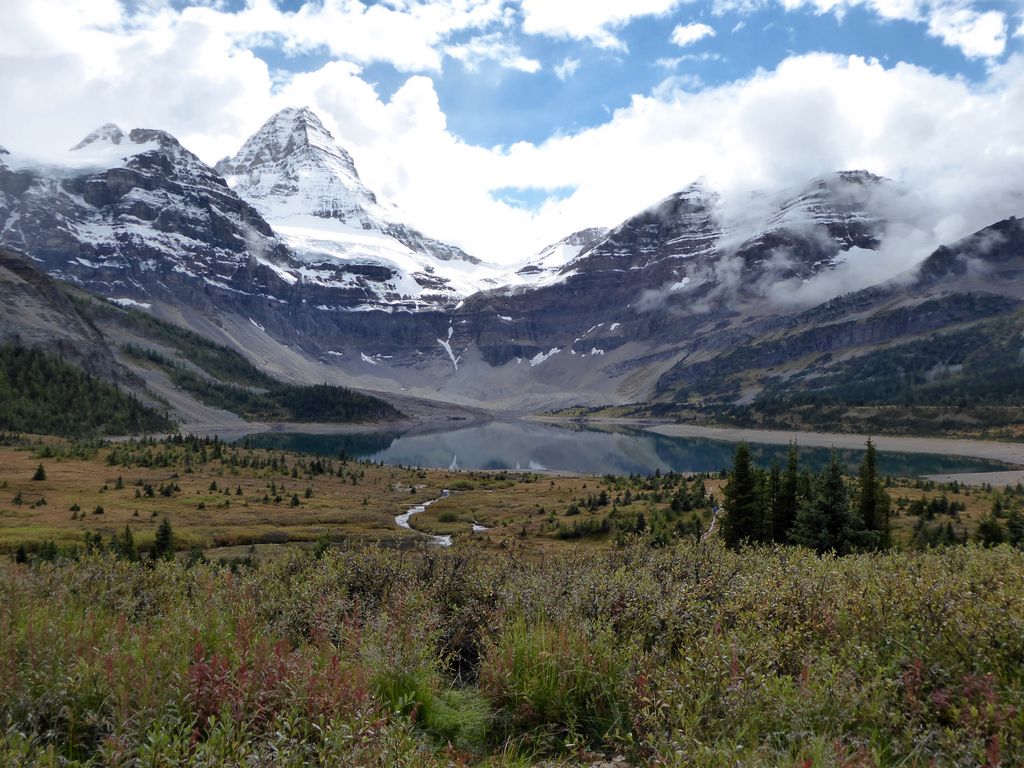 ancient myth.
While I was walking and snapping pictures, I came across a group of people that asked me to take a picture of them in front of the mountain. They seemed unable to contain their excitement, and after a few seconds of conversation I found out why. This group had been at Assiniboine Lodge for three days and had not once seen the mountain. Seriously. Not once, they said. The clouds had been so thick and constant that they couldn't see the gigantic heap of rock just a few miles away. That made me feel pretty damn lucky. I felt bad for complaining about a half-day's worth of rain!
I was pretty stoked that I was arriving at the lodge just in time for happy hour (4-6). It had been a long day of hiking, but nothing too crazy. I think staying at Br 9 that first night was pretty money for breaking up the hike. I stopped out front of the lodge to dry myself off and clean out my boots and all that, and then I started chewing the fat with some hikers out on the porch. There was a tiny telescope on one of the picnic tables and a bunch of people were watching some dudes making their descent from the mountain. Apparently they didn't make it all the way up, but they were doing some recon for the next time.
A short while later I saw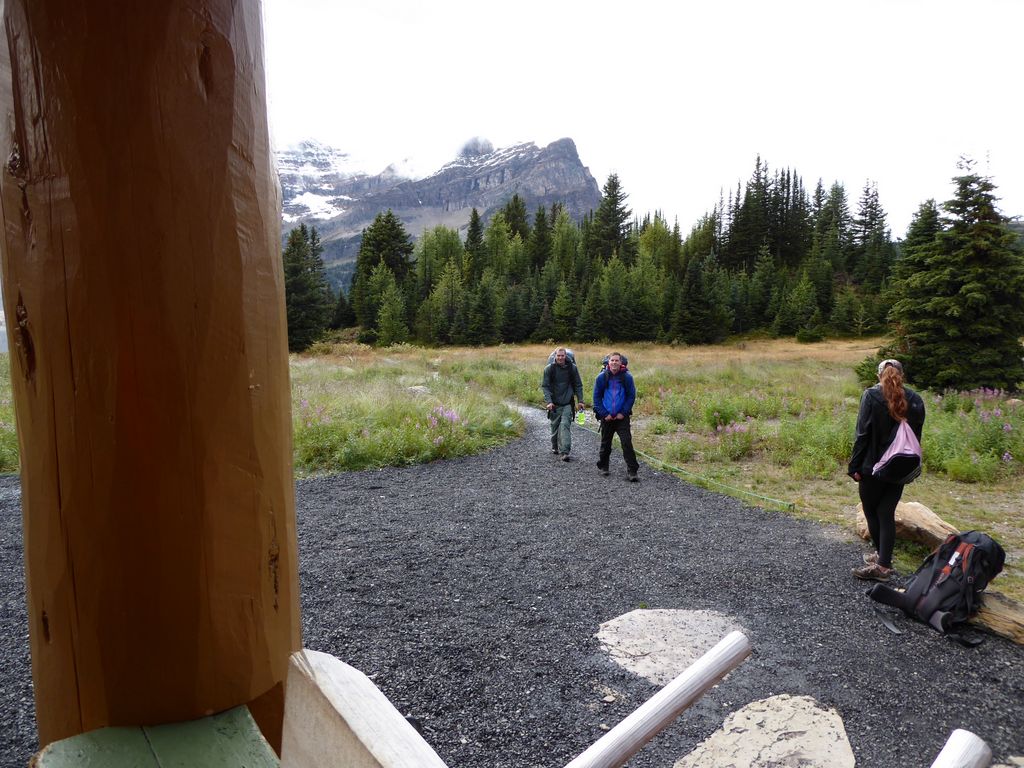 E and J roll up, lookin like a million bucks (that had just been rained on and dragged over a bunch of miles of dirt and rock). We had a fantastic time inside the little dining hall drinking good Canadian beer and choppin' it up with the other folks there. Jason and Eric both agreed that the trail through Assiniboine Pass was nothing worth visiting, so I made up my mind very quickly to join them going back down Wonder Pass even though it'd be a bit tougher on the knees.
Right before 6, we stocked up with some more beer to bring to camp. It was a bit of a hike from the lodge to the campground (I think almost a full mile), but not too bad after the alcohol had worked out some of the soreness :)
I thought the campground was really an exellent one. Plus, we got especially lucky that the weather decided to cooperate that night. After a quick dinner, we went down to the shore of the lake (easy access) and spent a while just sitting there and staring up at Mt. Assiniboine. Damn, is that an impressive mountain. Just magnicifent.
When we got back to camp, Jason and I considered joining up with the crews hanging out at the two shelters, but we were just too beat. I think if there had been a fire I would have been down, but headlamps and stoves are not a very enticing alternative.
---
Day 3 : Mt. Assiniboine to Wonder Pass
Night 3 : BR 9
Min El. : 5,600 ft
Max El. : 7,700 ft
El. Gain : 700 ft
El. Loss : 2,100 ft
Miles : 11.0
---
There isn't much to tell for the third and fourth day of the trip since it was just a backtrack of what we had done. We had some more crazy weather going over the pass, but fortune did smile upon us when we nearing its end. For a moment the clouds parted and we got a splendid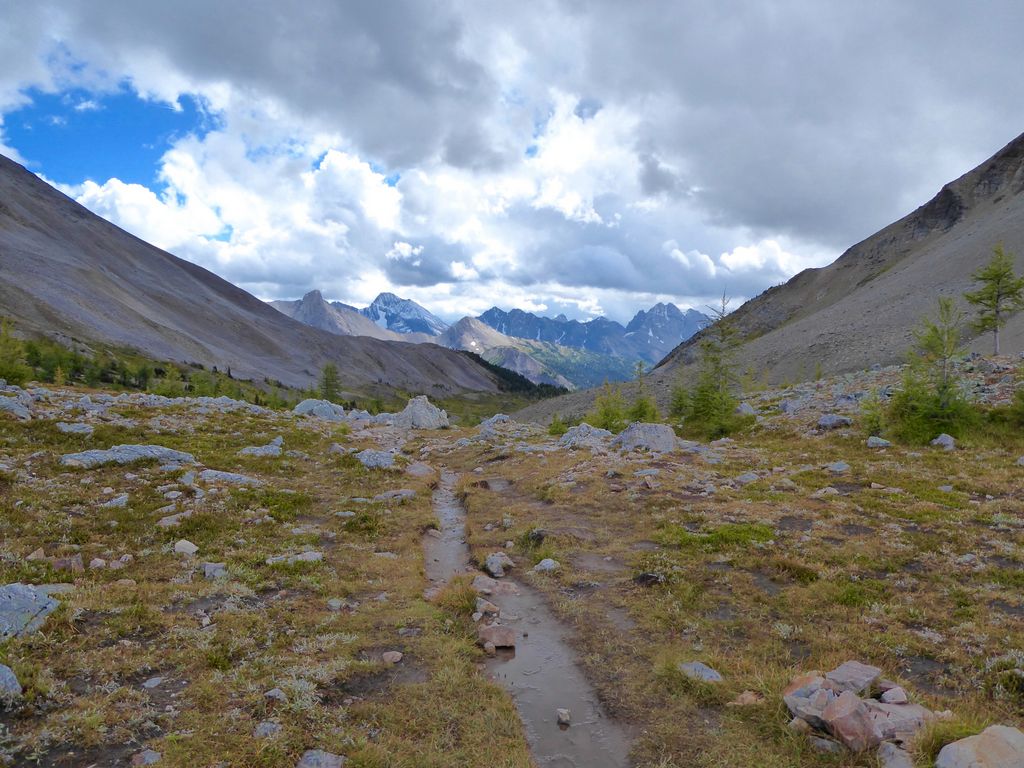 view of the mountainscape beyond Marvel Lake
We got lucky again while we were hiking above Marvel Lake with some sunshine that brought out a beautiful turquoise in the water. But after that, it rained quite a bit. And when we finally arrived at Br 9 later that day, we got hit by a pretty heavy downpour just as we were setting up our tents. Eric got super unlucky. The zipper on his Big Agnes tent (the Fly Creek Ultra Light 1, I believe) happened to malfunction just as the heaviest bit came down. So he basically had to hold the flap closed and endure a half hour of intense rain. Wasn't the greatest start to the night.
Once it stopped, we got out of our tents to eat dinner. I just remember thinking how nice it is that we have heated homes while I ate my tuna and rice. Yes, it's really nice to have a roof and four walls.
---
Day 4 : Back to Mt. Shark Trailhead
Min El. : 5,500 ft
Max El. : 5,800 ft
El. Gain : 300 ft
El. Loss : 400 ft
Miles : 5.5
---
On day four, we just hauled ass out of there. We got a very early start so that we could make it to the Lake O'Hara bus stop in time. It wasn't raining all that much, but it was muuuuuuudy. There are some sections of the trail to Mt. Sharkhead that don't have very good drainage, so it gets ugly.
Like I said before, we didn't miss much during our night hike into Br 9. Most of the ~6 miles is just a fire road through dense forest, so it all kinda looks the same. But we were in pretty good spirits knowing that we'd soon be at our car and on our way to another adventure at Lake O'Hara. The latter is well worth the crazy-difficult reservation, by the way!
---